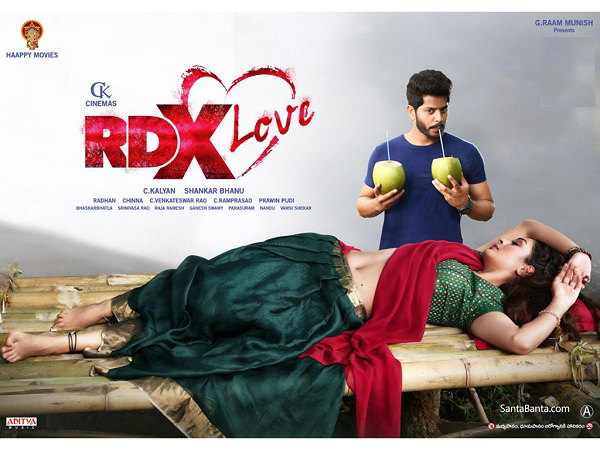 Film: RDX Love
Release date : October 11, 2019
Starring : Payal Rajput, Tejus Kancherla, Naresh, Aamani, Adithya Menon, Mumaith Khan
Director : Shankar Bhanu
Producers : C. Kalyan
Music Director : Radhan
Cinematography : C Ram Prasad
Editor: Prawin Pudi
www.moviemanthra.com;Rating: 2.5/5
Story:
Alivelu (Payal Rajput) wants to meet the chief minister of the state. For that, she uses the hero (Tejas) and attempts different things like promoting the welfare schemes of the government. What is her purpose? Why does she want to meet the chief minister? What happens in the end? Forms the story of the movie.
Performances:
Payal Rajput who only played bold characters till now has proved that she can also pull off performance-oriented roles really well. There are some bold sequences in this movie as well but, we can say that her performance in the emotional scenes and in the action sequences is really too good. Tejus Kancherla is one of the plus points for this movie. The way he has portrayed his role is really wonderful. The scenes between Tejus and Payal Rajput are romantic. VK Naresh delivered an honest performance in the movie. Nagineedu and Aditya Menon's energetic and power-packed performance became an asset for this film. Mumaith Khan justified her role well. Aamani also acted naturally. Vidyullekha Raman will evoke some good laughs in the theatres. The rest of the actors also made their presence felt.
Technical Aspects:
Director Shankar Bhanu tried to give us a good message with this movie but focused more on the commercial elements. The way he handled the sensitive issues is really good. But, there are also some equally unimportant scenes in the movie which will distract the flow of the story. Also, Director Shankar Bhanu succeeded in engaging the audience and presenting the movie in a good manner. Production values by C Kalyan under Happy Movies Banner are very rich. Music by Radhan became a plus point for this movie. His wonderful BGM elevated all the scenes. Cinematographer Ramprasad has produced some brilliant visuals for the movie and editing by Chinna is decent.
Plus Points:
Performances
BGM
Narration
Minus Points:
Some Unnecessary Scenes
Verdict:
The movie touches sensitive subjects that are considered taboo in the present society. The director tried to focus on those issues in a decent way and added some commercial elements like romance, comedy, etc. The entire first half will revolve around the story establishment itself. Most of the characters will have equal importance in the storyline. The interval block is also really good. However, the second half becomes extremely slow and some of the boring scenes will test the patience of the audience. However, the pre-climax and climax scenes will impress the audience. Performances, BGM, and narration can be considered as the plus points in this movie. Overall, 'RDX Love' can be watched once.
Punch Line: RDX Love Is Good In Parts