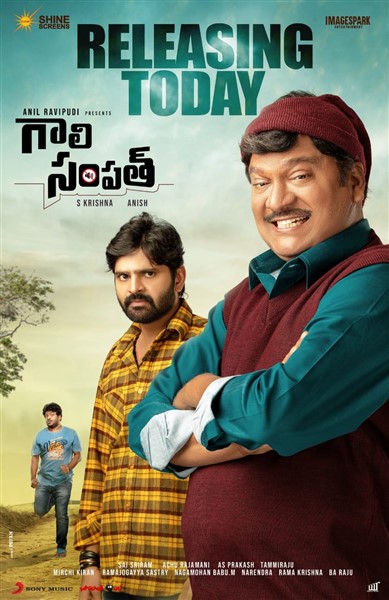 Movie: Gaali Sampath
Cast: Rajendra Prasad, Sree Vishnu, Lovely Singh, Sathya, Thanikella Bharani
Director: Anish Krishna
Presenter: Anil Ravipudi
Story: S. Krishna
Producers: Sahu Garapati, Harish Peddi, S Krishna
Screenplay: Anil Ravipudi
DOP: Sai Sriram
Music: Achu
Art: AS Prakash
Banners: Shine Screens & ImageSpark Entertainment
moviemanthra.com;Rating: 3.5/5
Release date ;11/3/2021
Story:
Gaali Sampath (Rajendra Prasad) wants to become an actor but his motive becomes a problem for his son (Sree Vishnu). Once, Gaali Sampath becomes a big burden to son and creates a big problem. His son asks him to go away from him. What is the problem? What did Gaali Sampath do? What happened in the end? Forms the story of the movie.
Performances:
Rajendra Prasad is truly an asset to this movie. The actor carried the entire film on his shoulders and did a good job in essaying his role. Lovely Singh not only looked gorgeous but also impressed with her performance. Sree Vishnu is also too good in his role. Tanikella Bharani's performance added more strength to the film. Satya and Raghu Babu justified their roles. Karate Kalyani delivered a decent performance in the film. Anish Kuruvilla went under the skin of the character and delivered a good performance in the film.
Technical Aspects:
S Krishna despite being a newcomer will definitely surprise the audience with his exceptional and flawless writing skills. Director Anish Krishna also succeeded in narrating the story in an even more engaging way. Despite having some of the shortcomings, we can say that the movie will reach the expectations. Production values by S Krishna, Harish Peddi and Sahu Garapati are one of the biggest plus points of the film. Music by Achu Rajamani is mesmerizing. His songs are quite impressive and his background score elevated all the scenes. Cinematographer Sai Sriram has produced some sleek visuals for the film and grand visuals for the film. Editing by B Tammiraju is clean and neat.
Plus Points:
Performances
Storyline
Dialogues
Comedy
Minus Points:
Few lags in first half
Verdict:
Gaali Sampath is one of the interesting films that released this weekend. The film has a good story that was told in an interesting screenplay format. The movie has got all the elements in the right and required proportion. The film unit is extremely happy with the way the film has come out. The comedy, performances and emotion worked well on the screen. Rajendra Prasad is major highlight of the film. Anil Ravipudi screenplay is also gripping. On the whole, Gaali Sampath is a hilarious entertainer with proper emotions.
Punch Line: 'Gaali Sampath' is a hilarious entertainer