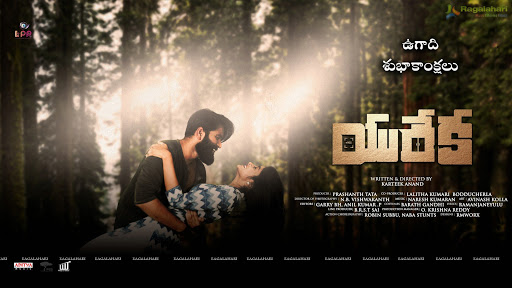 Film: Eureka
moviemanthra.com;Rating: 3.25/5
Cast: Karteek Anand, Shalini Vadinikatti, Munna, Dimple Hayathi and others
Director: Karteek Anand
Producers: Prashant Tata and Lalitha Kumari
Music: Naresh Kumaran
DOP: NB Vishwakanth
Release Date: 13 / 3 / 2020
Story:
Revanth and his friends organize a festival in an engineering college. Out of contempt, the other gang of Yuva and his friends try to stop the festival. While the two rival gangs are busy fighting, something unexpected happens. What is that? Who won in the two gangs? Why are the drugs involved in this? What happens in the end? Forms the story of the movie.
Performances:
The film has got a good cast. Everyone is so talented and has played their roles well. Karteek Anand is impressive in his character and portrayed emotions well. The aggressiveness in the character got elevated perfectly well in the film. Everyone will certainly enjoy the film and the performances of the lead actors. Also, Munna is good at his role too. Both the leads have played head to head and impressed with a strong attitude and body language. On the other side, the heroines are nice too. Dimple Hayathi and Shalini are two talented beauties who will do wonders if given good roles in the future. Looks-wise and performance-wise, they are good. The other actors Brahmaji, Raghu Babu, Sivannarayana Naripeddi and others also made their presence felt.
Technical Aspects:
The film is a small budgeted flick but still, the technical values maintained by the producers are good. The production values are decent. Within the limited resources, the film unit tried their best in coming up with some good output. The cinematography of the movie is by NB Vishwakanth and the visuals are looking amazing in the film. The entire college atmosphere got captured nicely by the lensman. The music by Naresh Kumaran is a big plus for the film. His background score is amazing too. The editing work is nice. The technical team did their best to contribute to the output.
Plus:Points
Interval Twist
Performances
Story
BGM
Minus Points:
A few boring scenes
Verdict:
Set against an engineering college backdrop, the film tells the story of two gangs that have an ego and a motto to win over the other. The way the film got shown is nice. The interesting action sequences build up the mood properly. The director must be appreciated for coming up with a concept like this, which is thrilling. The twist during the interval bang is extraordinary and it will surely impress the audiences big time. On the other side, the climax was handled well by the director. All in all, the film Eureka is a decent youthful entertainer with some thrills and a mind-blowing twist. Watch it.
Punch Line: Eureka is a youthful entertainer with thrills and twists