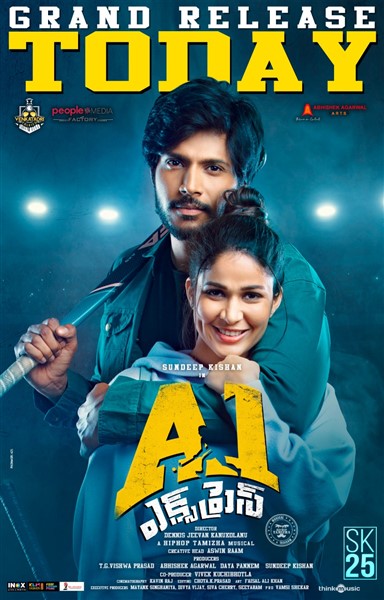 Film: A1 Express
Producers: T. G. Vishwa Prasad, Abhishek Agarwal, Sundeep Kishan, Daya Pannem
Co-Producer: Vivek Kuchibhotla
Director : Dennis Jeevan Kanukolanu
Music: Hiphop Tamizha
Creative Head : Aswin Raam
Cinematography: Kavin Raj D.F. Tech
Editor : Chota. K. Prasad
Production Designer : Faisal Ali Khan
Stunt: Venkat
Dance Choreography: Shekar, Sathish Krishnan
Costume Designer: Harman Kaur
Stylist: Pandu
moviemanthra.com;Rating: 3.25/5
Story:
Sanju (Sundeep Kishan) falls in love with hockey player Lavanya (Lavanya Tripathi) in Yanam. Ramesh (Rao Ramesh) is a sports minister looking to lease out the ground she plays at. There are a lot of corruption issues in between and her coach Murli (Murli Sharma) struggles to keep the team together. In such a scenario, Sanju picks up a fight with Ramesh. What happens then? Why did the fight happen? What happens in the end? Forms the film's story.
Performances:
Sundeep Kishan has put a huge physical transformation for the film. From building his body to maintaining a different hair style, Sundeep Kishan aced the stylish look. As a hockey player, he looks perfect. His performance improved a lot and has given his best. Lavanya Tripathi is good too. She also learned the game and presented her well. Both the lead actors did their best. Rao Ramesh is impressive in yet another important character in the film. The rest of the cast did make their presence felt.
Technical Aspects:
Technically, the film is very good. The camera work is impressive and the makers used unique ways of producing visuals on the screen. The music by Achu is good. The songs are hummable and the background score has elevated the film perfectly to the next level. Apart from that, the editing and production design is neat and excellent too. The VFX work is done nicely. Technically, the film is good.
Plus Points:
Performances
Story
Camera Work
BGM
Minus Points:
Few Boring Scenes
Verdict:
A1 Express is an interesting and impressive sports drama that we have seen in the recent times. There are a lot of similar films that came up but this film has got the heart in the right place. The movie is doing well and impressing everyone perfectly. A1 Express is surely a film that can inspire the audiences while the sports lovers will love the film. Hockey is not explored before on Telugu screen but Sundeep Kishan has done it so nicely. The film's story is nice and the director has executed it perfectly without any hiccups. On the whole, the film is a stunner.
Punch Line: A1 Express is an A class Intriguing sports drama