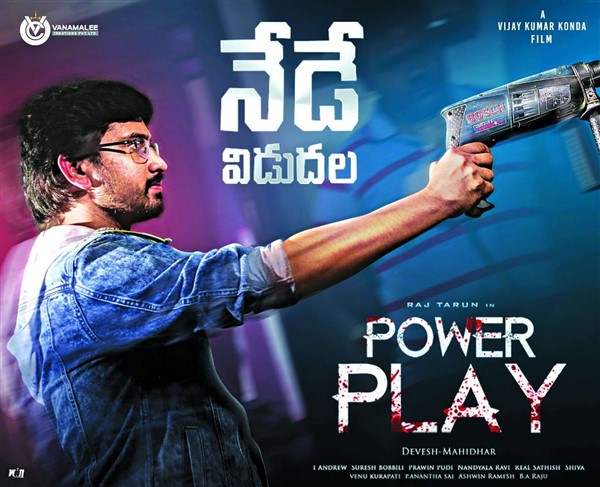 Film: Powerplay
Cast: Raj Tarun, Hemal, Poorna and others
Direction: Vijay Kumar Konda
Producers: Maheedhar, Devesh
Music: Suresh Bobbili
Cinematographer: I Andrew
Editor: Prawin Pudi
moviemanthra.com;Rating: 3.25/5
Story:
Vijay (Raj Tarun) completes his engineering and plans to get married. However, he is unemployed. Vijay's father plans to get his job to son by taking voluntariy retirement scheme. When he thinks everything is going well, he faces a strange situation that changes his life. The situation takes everything from him and he gets stuck in a powerplay. What is it? How did Vijay come out of it? What did he do for the same? Forms the story of the movie.
Performances:
Raj Tarun has played a new and unique role in the film. It is completely a different kind of a character for him. He displayed the other side of his performance with the movie. Especially during the interval, Raj Tarun has displayed an amazing performance in the movie. Poorna has played a key role in the film and has given her best for the film. Madhunandhan, Dhanraj, and others are good in their roles. Kota Srinivasa Rao also played a key role in the movie. The rest of the cast is good.
Technicalities:
Andrew's camera work is impressive. His visuals are grand on the screen. Suresh Bobbili's background score is terrific. He has done a great job in the film. The screenplay is engaging. The film's editing has come out well and the technical team worked very hard to generate an impressive output. The thrilling elements are nice. The production values are grand.
Plus Points:
Screenplay
Performances
Technical team
Minus Points:
Start of the movie
Logics missing
Verdict:
Raj Tarun's performance is the major highight of the movie. He has displayed a great performance. The comedy timing is perfect and Raj Tarun is brilliant throught out the film. His look is different and he takes up the serious script to prove his other side of acting. The film begins on a slow note but it has shaped out really well, after that. The film has a serious point and the director dealt the movie well. The story and screenplay is engaging. The screenplay is racy. The film is impressive in many points. Every character helped the film move forward. The pre-climax and climax sequences are good.
Punch Line: Power Play is engaging and interesting