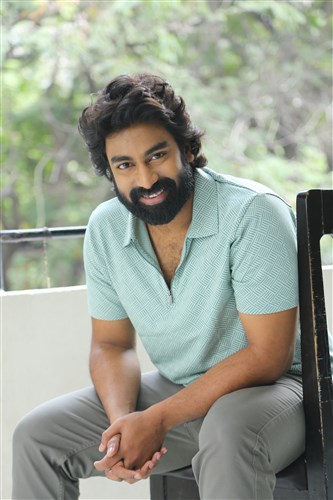 "Narakasura" starring Rakshit Atluri of "Palasa" fame. Aparna Janarthan and Sankeerthana Vipin are going to be seen as heroines. The film is produced by Dr. Ajja Srinivas under the banners of Sumukha Creations and Ideal Film Makers. Directed by Sebastian Nova Acosta Jr. "Narakasura" movie is going to be released in Telugu, Hindi, Tamil, Malayalam and Kannada languages on 3rd of this month. On this occasion, Rakshit Atluri interacted with media about the film.
– The movie "Narakasura" is set in a coffee estate on the borders of AP and Tamil Nadu. In this movie, I played the character of a lorry driver named Shiva. Nasser is playing the character of a coffee estate supervisor. I appear as a driver/pepper harvester working for him. In the movie "Narakasura" we have taken a point related to the Hijras, just like in my previous movie Palasa I have shown the problems related to Dalits. This is just one aspect of the story. The film has all the commercial elements. This transgender element causes a conflict in the story.
– We started "Narakasura" movie in 2020 after the release of Palasa movie. We wanted to complete the film within a year. But this is a big scale movie. There are good padding artists like Nasser, Charan Raj, Sreeman. In terms of story, we shot in states like Chhattisgarh, Orissa and Madhya Pradesh. There were two covid waves in between. Due to this, dates could not be arranged for combinations of artists. The shooting of the film, which was supposed to be a year, took two and a half years. I couldn't do another project because of the getup I did for this character. Our director lost his arm in an accident which also caused the delay. But in the stage of completing "Narakasura", I acted in two films, Operation Raavan and Sasivadane. Both the films are now in the post-production stage.
– This movie will not have any elements related to Narakam. As shown in the teaser, we have given the title as if we have to be more evil to kill monsters. For the past three months, three to four films have been releasing every week. We thought that the 3rd of this month would be a good date for the release of our film. Because the buzz of Dussehra movies has reduced a bit. Also, no big movies are releasing this week.
– "Narakasura" has a long action sequence. We shot that action sequence for 20 days in Madhya Pradesh. It's cold there. Moreover, the fight scene had to be done in the rain at night. Even though it seemed difficult then, we felt happy when we saw the output on the screen. This movie has no resemblance to Pushpa movie. The shoot of our film started before Pushpa. It does not include smuggling. I work as a lorry driver in a coffee estate.
– When we started this project, we thought that we will make a pan India movie. Casting has also taken people like Nasser, Charan Raj, Sreeman. The story also has pan India elements. Since AP and Tamil Nadu border coffee estate, the characters of the people working there also some speak in Tamil. There are two heroines in the movie. One of the heroine played my wife character. Another heroine played the character of a coffee estate manager. Both heroines are from Kerala. Everyone in our team worked with dedication. I feel fortunate to work with experienced actors in this film. Charan Raj sir will be seen in a big character. He is the key role. From the beginning to the end of the movie. I have a conflict with him. It is not like a hero and villain fight.
– I want to be a good mass hero. Because when I saw the action scenes I did in the movie Palasa, I felt that I did the fights well. I want to get a good name as an actor. In the movie Palasa, I have acted well in a character with four variations. They will make films while protecting that name. In this movie, songs and fights are part of the story. While doing Narakasura, some other projects came up but I couldn't do it because of this get-up. Polimera 1 should also be done by me. But I don't feel sorry for not being able to do those projects. We are confident that our movie will be a super hit.
– Due to the delay in the making of the film, the budget increased. But our producers have given full support. We are all confident because of the output of the film. Sasivadane and Operation Raavan post production works are going on. We want a December release. I am currently listening to stories. Two projects have been confirmed right now.