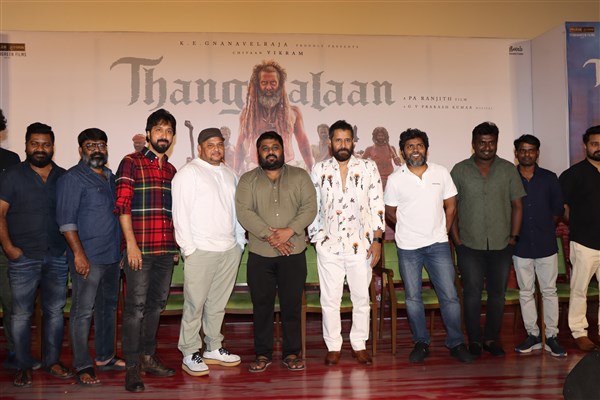 Versatile actor Chiyan Vikram's most awaited film Thangalaa is directed by Pa Ranjith, a revultionary filmmaker. The film is being made as a periodical action drama based on real events in the background of Kolar Gold Fields. Billed as a period drama set in the 18th century, the movie stars Parvathi and Malavika Mohanan in important characters. With this movie, Chiyaan Vikram is going to surprise with his performance in a raw and rustic character.
The film Thangalaan will release in Telugu, Tamil, Malayalam and Kannada along with Hindi on a pan-India level on January 26th, 2024 on Republic Day. KE Gnanavel Raja is producing under the banner of prestigious production company Studio Green in association with Pa Ranjith Neelam Productions. Today makers unveiled the film's teaser in a grand launch event and the team attended the event. Hero Satya Dev, directors Bobby, Surrender Reddy, Venu Udugula, Karuna Kumar and many other graced the event as guests. On this occasion,
Cinematographer- Kishore Kumar
So happy to be here and I was in Hyderabad in 2009 to work as assistant director for Andhala Rakshasi film. This is second time coming here and I believe Telugu audience are true movie lovers. Always happy to be part of good cinema. Thanks Pa Ranjith anna for the opportunity. Thanks to Chiyaan Vikram sir and Gnanavel Raja garu for this opportunity. The teaser raises expectations and the film will definitely fulfill everyone's expectations.
Producer – Madhura Sridhar
After witnessing teaser, we can't imagine anyone other than Chiyaan Vikram sir. I think 26th January is going to be best day for cinema lovers.
Art director – SS Murthy garu
Thanks for the response and it was amazing to work with this team. Chiyaan Vikram garu and Pa Ranjith worked very hard for the film.
Editor – RK Selva
I'm so happy to be here and the crowd here is amazing. Thanks for celebrating our teaser. It was great working with Chiyaan Vikram sir and Im actually big fan of him. I could witness his hardwork in my edit room and it was phenomenal performance. Thanks Gnanavel Raja garu for the opportunity and Thanks to Pa Ranjith anna for taking us to the next level.
Director – Bobby
Welcome Pa Ranjith garu and Chiyaan Vikram garu, its a privilege to meet both of you. Hatsoff to your choice of films like Aparichitudu, Nanna, Shiva Putrudu and now Thangalaan and your mad dedication for each role. Pa Ranjith sir, your work is an inspiration for lot of filmmakers like me. I wish all the best to the entire team and its going to be big for sure.
Director – Surrender Reddy
Gnanavel Raja garu has many Telugu films lined up. I wish all the best to him. Chiyaan Vikram garu, you've set a benchmark with your phenomenal performances and dedication for the role. Every frame in the teaser registered in my mind. I wish a blockbuster success for the whole team and Telugu audience will definitely love this film.
Hero – Satya Dev
Chiyaan Vikram sir, Its an extreme privilege to stand infront of you as an actor. You've inspired generation of actors and I'm one of them. He did lot of versatile roles and he surprises everytime with his diverse characters. Telugu audience owned you and Suriya sir with Shiva Putrudu and we always believed you were first introduced to Telugu. Thanks to Gnanavel Raja sir for bringing rooted stories like Thangalaan and Kanguva for the audience. Pa Ranith sir, your films inspired us and I think on January 26th, we as Indians will be proud after watchig Thangalaan.
Producer – Gnanavelraja
Hyderabad feeels like home. The kind of love, I have for cinema and you have for cinema is amazing. I think Tamil and Telugu industries will be part of world cinema. You've encouraged other industries films like Kantara, KGF and many other Tamil films. Telugu industry filled the confidence in other industries that actually go for theatrical releases. I thank all the audience who came here for Thangalaan. It was an amazing experience to work such a versatile and talented actor Chiyaan Vikram garu for the first time. The kind of hardwork Pa Ranjith and our team put for the film is just so inspiring. I thank GV Prakash brother for his contribution for the film. Two gems in directing and acting collaborated together to bring a great cinema for the audience.
Director – Pa Raniith
Thank you for your love and you guys are true cinema lovers. You've loved the every content from Thangalaan and it is all beacuse of our team and Gnanavel Raja garu. I alwys fear Telugu audience, because thier love is very true. Now south Indian cinemas are dominating and it is reaching world cinema because of our content. Like RRR and Vikram changed the phenomenon.
I have huge respect on Chiyaan Vikram sir from student days because he is one of the actor who respects art a lot. I've waited so long to work with him and I got the opportunity finally. When he okays a gilm, his whole body dedicated to the film. Every technician put thier heart and soul for the film understanding my vision. I hope you all like the film and thanks to the guests who came here to support of our film.
Versatile actor – Chiyaan Vikram
What an energy, what a love for cinema. It was a superb reaction for the teaser from live audience. I like to thank young directors and actors for coming here. Surrender Reddy and Vinay worked as assistant directors for Thommidhi Nelalu film. I have no dialogue in the film like in Shiva Putrudu. The team worked very hard for Thangalaan. It's a raw, emotional and gritty drama. It's a very different film and doesn't follow the grammar of regular film. It was continuous work from morning to evening and it took 3 hours to makeup me for the look.
We were leading the same life as those inhabitants everyday. I've never done film like this. Thanks to Gnanavel Raja garu for giving us the freedom. He's always done phenomenal films and he will be going to next level after Thangalaan. The film is a new world and I like to thank our whole team for thier hard work. Whenever we visit foreign, people recoginsed us and used ask that are we from Bollywood? But south india cinema changed and it is reaching global stage. From the last few years, it's all the domination of south films. Even our technicians are creating sensation in Bollywood. Recently Atlee delivered one of biggest hits with Shah Rukh Khan sir, then KGF, RRR and Baahubali. I like to thank SS Rajamouli sir for giving us hope that we can also dream Oscars. Thank you for paving us the way.
Actors – Chiyaan Vikram, Parvathy, Malavika Mohanan, Pashupathi, Harikrishnan, Anbu Durai etc.
Technical Team –
Music – GV Prakash Kumar
Art – SS Murthy
Editing – RK Selva
Stunts – Stunner Sam
Banners – Studio Green, Neelam Productions
Producer – KE Gnanavel Raja
Directed by Pa Ranjith.