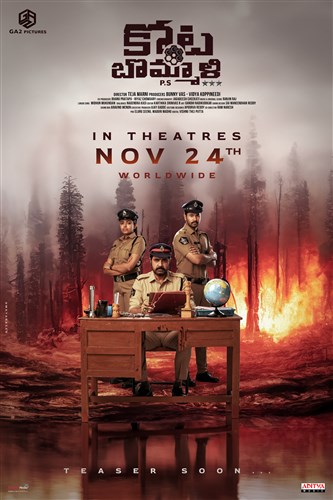 GA2 Pictures is currently busy with a riveting political thriller titled Kota Bommali PS starring versatile actor Srikanth Meka, Varalaxmi Sarathkumar, Rahul Vijay and Shivani Rajashekar in lead roles. The movie has already garnered attention with its captivating motion poster.
Directed by Teja Marni of Johar and Arjuna Phalguna fame, the movie has made the headlines again. The recently released Srikakulam Folklore Lingi Lingi Lingidi is causing a stir all over the world, with millions of views and thousands of reels. With a powerful teaser promo, the makers have provided an update on the film's release date.
The teaser promo reveals that the film will be released worldwide on November 24th, and the powerful quick glimpses of Srikanth, Varalaxmi, and all the other actors in action enhances the teaser's anticipation.
The teaser will be released very soon. The film is about politics and the power of leaders, and it will be released on November 24th, just in time for the Telangana elections.
Passionate producers Bunny Vass and Vidya Koppineedi bankrolled the film. Bhanu Pratapa and Riyaz Chowdary co producing the film. The movie has some top technicians handling different crafts. Music is compsed by Ranjin Raj and Midhun Mukundan.
—