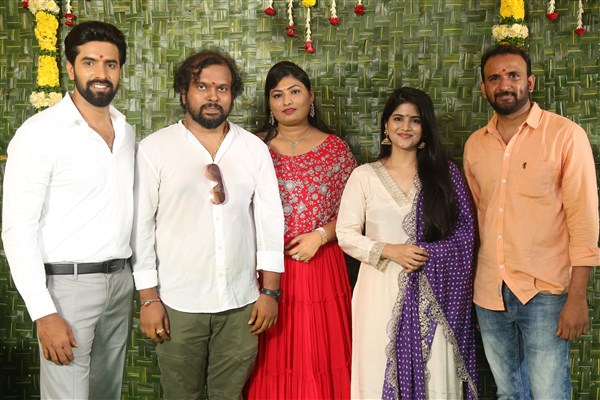 Ram Kiran and Megha Akash's latest film Sahakutumbanaam opening ceremony kicked off in Hyderabad on Sunday. H. Mahadev Gowd and H. Nagarathna are producing this film under the banner of HNG Cinemas. The film is helmed by Uday Sharma. Famous choreographer Chinni Prakash switched the on the camera for the first scene shot on the hero and heroine, while famous producer AM Ratnam clapped for the opening scene.
Film producer H Mahadev Goud handed over the script to the director and the opening scene was directed by filmmaker Uday Sharma. In the press conference organized on this occasion, the director said that immediately after hearing the story, producer wanted to do the film. On hearing about her role in the film, Megha Akash immediately agreed to be part of this amazing project. This is a clean family entertainer and I hope people will love the film.
Gorgeous Megha Akash said, "My character's name in this film is Siri. This is my favorite role. I'm very happy to act in this movie." Hero Ramkiran said, "The story is the hero of this film. Thanks to the producer who believed in this story and gave an opportunity to so many people. This is a very powerful story with all the emotions. Everyone will like this family entertainer."
Producer Mahadev Goud said, "I liked this story in the first narration and I have full confidence on the team. This film made with a new concept, will entertain everyone."
Chinni prakash Master said, "This film will be a good beginning for the career of Ramkiran, who is aiming to become a hero, and it has a very wonderful story that has not been seen till now."
The film has stellar cast like Rajendra Prasad, Brahmanandam, Satya, Rahul Ramakrishna. Racha Ravi, Subhalekhala Sudhakar, Bhadram, Pragathi etc.
Music by: Manisharma,
Editing by: Shashank Maali,
Lyrics by: Anantha Sriram,
Camera by: Madhu Dasari,
Art by PS Varma,
Additional screenplay by: Balaji Bhuvangiri,
Executive Producer: Rohith Kumar Padmanabha,
Story – Screenplay – Dialogues – Direction: Uday Sharma.
—
—
Madhu PRO
9849162675