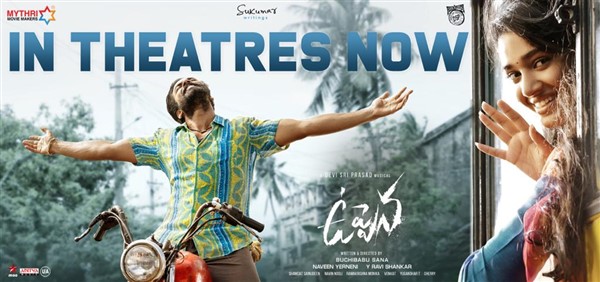 Film: Uppena
Directed by: Bucchi Babu Sana
Produced by: Naveen Yerenini, Y. Ravi Shankar, Sukumar
Written by: Bucchi Babu Sana
Starring: Panja Vaisshnav Tej, Krithi Shetty, Vijay Sethupathi
Music by: Devi Sri Prasad
Cinematography: Shamdat
Edited by: Naveen Nooli
Production Company: Mythri Movie Makers, Sukumar Writings
Release date: 12 February 2021
Country: India
Language: Telugu
Moviemanthra.com;Rating: 3.25/5
Story:
Uppena is a love story between Panja Vaissnav Tej, a boy from the fisherman community and an upper-class girl, Krithi Shetty, who are willing to fight for their love amidst social stigma, political oppression and status difference between them.
Performances:
Every actor in the film did his best. Vijay Setupathi in particular did a fine job on the film. With his performance, he took the film to the new level. He was there from start to finish and left his mark. Two debutants Vaishnav Tej and Krithi Shetty did their best for the film. Their chemistry works really well in film. The eyes of Vaishnava Taj speak volumes, as do the heroine's smile. The lead actors will have a bright future in the film industry if they choose the right stories. Especially, Krithi Shetty is here to stay for sure. The actress'screen presence is amazing. Krithi Shetty performance is certainly gives a feeling of watching an experienced actor. All the actors did their best.
Technical aspects:
Technically, this film is very good on many levels. Shamdat camera is amazing. Everyone did their best for the film. Devi Sri Prasad's music is very good. Apart from the audio album, the background music also takes the film to another level. The editing is great and the artwork is excellent. The production values are grand.
Plus Points:
Performances
Camera Work
Music
direction story screenplay
Minus Points:
Few lags
Verdict:
Uppena is an old story with a shocking twist in the end. Director Buchi Babu Sana succeeded in portraying the story in a way that everyone can be watched. It is definitely a bold choice from Vaishnav Tej to choose this subject as his debut film. Considering that he is a debut hero, his performance is decent. But Krithi Shetty and Vijay Sethupathi stole the show with their stellar performances. Buchi Babu reminded us of his guru Sukumar in the execution of the movie. The first half of the film is pretty decent where the director takes enough time to establish the love story. The second half is also predictable barring the incredible climax. Breezy visuals and the beautiful background score have elevated this normal story to the next level. Uppena is a normal love story but what sets it apart is the executive with good technical standards. Krithi Shetty's performance is the major highlight of the movie. Thus, you gave give it a shot.
Punch Line: Uppena is the rising wave of Love with a twist