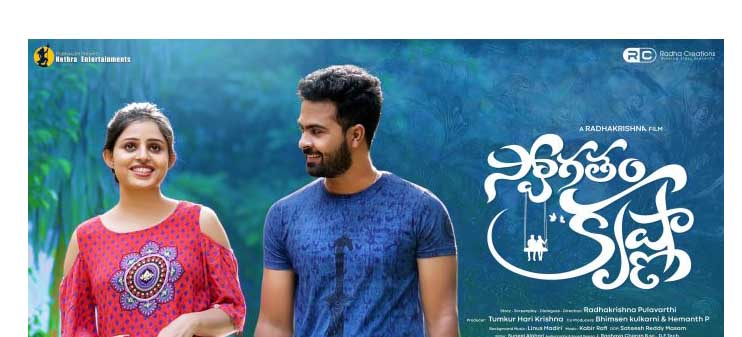 Independent Film: Swagatham Krishna
www.moviemanthra.com ; Rating: 3./5
A lot of new talents are being introduced via independent platforms and they are also making debut with feature films. As part of the same now, we have a new independent film on the block. The film is titled as Swagatham Krishna and with the standards of a feature film, the film was made now. A special screening of the movie was held yesterday in Hyderabad and the entire team attended it. Netra Entertainments produced the film while Radhakrishna Palavarthi is the director of the movie. Thumukuru Harikrishna is the producer of the film. The film review is here. Read on.
Story:
Krishna (Chaitanya) lost his mother when he was a child. He wants his lover also to treat him like his mother. He wanted to marry a girl who showers love on him like his mother. He meets Supriya (Alka Rathod) and does friendship with her. But she does not accept him. Why does she do that? What did Krishna do then? What happens in the end? Forms the story of the movie.
Performances:
Hero Chaitanya played his part pretty well. His performance is considered as one of the major highlights in the movie. Alka Rathod who played the heroine is impressive with her performance. She is good in the movie. Bum Chik Babloo, Balaraju, Anush and others are good in their roles and did justice for their characters.
Technical Aspects:
The director picked up an interesting story. The screenplay of the movie is exciting in many ways. The dialogues are interesting and the makers took a great care in making the movie. The film has got everything in the perfect place. The cinematography is exceptional. The music is nice. The production values of the movie are rich. The editing is nice. The background score is impressive. On the whole, the film is nice and impressive.
Verdict:
The hero in the movie lost his mother when he was a child and so he wanted to feel the love of a mother in his girlfriend. The film has an interesting story. Unlike routine execution, the director has executed the movie in an impressive manner. The film has come out well and the way the screenplay was written is good too. The dialogues in the film are so good. The director Radhakrishna dealt with the film well. Elements like friendship and love are executed well. There is heart-touching chemistry in the film.
Punch Line: Cute Romantic Drama