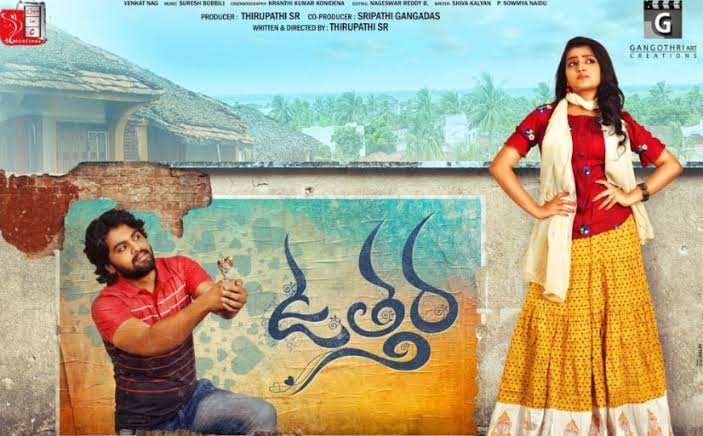 Film: Utthara
Cast: Sreeram Nimmala, Karronya Katrynn, Ajay Ghosh
Music by: Suresh Bobbili
Producers: Thirupathi SR, Sripathi Gangadas.
Written & Directed by Thirupathi SR
Cinematographer: Charan Babu.
Editor: Bonthala Nageswar Reddy
Banners: LIVE IN C CREATIONS & GANGOTHRI ART CREATIONS
www.moviemanthra.com;Rating: 3. /5
Story:
Ashok falls in love with a girl named Swati but doesn`t have enough money to ask for her hand in marriage. For this, he decides to pursue a northern treasure known as Uttara, but in the process ends up getting tangled with a powerful landlord called Rudrayya.
Performances:
The entire story revolves around Sreeram Nimmala's character and the young actor gave his best. He tried to impress with his expressions and succeeded in it most of the times. Karronya Katrynn has also given a commendable performance in his role. Ajay Ghosh did justice to his character of a Zamindar. Tillu Venu and Abhay Bethiganti have also performed very well under their limitations. On the whole, Utthara got packed up with some good performances by all the actors.
Technical aspects:
Director Tirupathi wrote a good screenplay for this film. He filled the first half with a lot of fun and romantic scenes and packed the entire second half with a lot of suspense elements. The way Tirupathi narrated the story is quite good. None of the scenes in the film will bore the audience. The production values by Tirupathi SR and Sripathi Gangadas are nice and brought the richness to the film. Music director Suresh Bobbili gave an amazing album as well as the background score for the movie. Cinematographer Charan Babu and Editor Nageshwar Reddy have also done their jobs well.
Plus Points:
Performances
Story
Direction
Music
Minus Points:
Few dragged scenes.
Analysis:
Utthara starts off on an interesting note right from the first scene itself. The entire first half goes in an entertaining way and takes a serious turn at the interval point. The proceedings in the second half become interesting with that interval twist. The romantic scenes between the lead pair have worked out well. The jail scenes and the treasure hunt scenes are hilarious. Even the climax is very well handled. On the whole, Utthara is a good attempt and a feel-good romantic drama, which makes a good watch for this weekend.
Punch Line:Feel Good Romantic Film