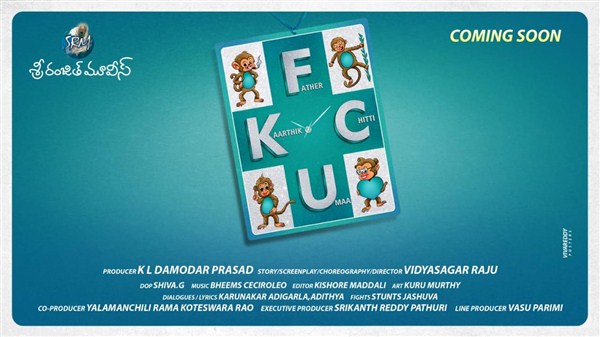 * Shooting is wrapped up, post-production works begin
* The film is scheduled for release in January 2021
Sri Ranjith Movies… When you hear the name of this banner, you will remember the successful films like 'Ala Modalindi', 'Anthaku Mundu… Aa Tarvata' and 'Kalyana Vaibhogame'. Likewise, when you hear the names of these films, the production house 'Sri Ranjith Movies', which is known for making content rich films, comes to mind….
Sri Ranjith Movies head KL Damodar Prasad says, "The reason behind success of Nani starrer 'Ala Modalaindi' directed by first timer Nandini Reddy, Sumanth Ashwin's 'Anthaku Mundu… Aa Tarvata' under the direction of Indraganti Mohana Krishna, Nandini Reddy and Naga Shaurya's 'Kalyana Vaibhogame' is the unique and strong content and the potentiality of actors and technical team. Apart from that, we can never forget the support of print and electronic media in promoting the film and we thank them once again on this occasion.
After some gap, we are making back to back films. Already, four stories are fully readied. Few details of one among these films are unveiled today."
* Sri Ranjith Movies Productions No. 14 'Father – Chitti-Uma-Karthik' with Jagapathi Babu in lead and 'Karthik, Ammu Abhirami' as young pair
Popular actor Jagapathi Babu plays the lead role, while Karthik and Tamil actress Ammu Abhirami (Tamil film 'Asuran' fame) play a young pair. Child actress Sahasritha is playing another key role.
The film is being directed by Vidyasagar Raju. "As we liked the novelty in the story narrated by Vidyasagar Raju. This is 14th film under our production banner," said producer KL Damodar Prasad.
"'Father-Chitti-Uma-Karthik' is the title of the film. The title is chosen based on the story of the film. The promotional content of the film is released to introduce the lead characters," said producer KL Damodar Prasad, adding, "The film's shooting is done. Post-construction activities are currently underway. The film industry is just beginning to recover from the situation of theaters closure during Covid-19 lockdown. The film will definitely gratify the audience who love to watch movies along with family members in theatres. We are planning to release this movie in theaters in January 2021."
Director Vidyasagar Raju says, "The film is made as a 'romantic comedy entertainer'. The film's title too describes the same. The story revolves around 'Father-Chitti-Uma-Karthik' and the emotions as well as entertainment will entertain the normal movie-goers to the fullest.
The film also stars Ali, Daggubati Raja, Kalyani Natarajan, Brahmaji, Krishna Bhagavaan, Rajitha, Jabardast Ram Prasad, Naveen, Venky, Raghava, Bharat etc.
Technicians List
Dialogues: Karunakar, Aditya
Cinematography: Shiva.G
Music Director: Bheems Ceciroleo
Songs: Karunakar, Aditya, Bheems
Editing: Kishore Maddali
Art Director: Murthy
Story-Screenplay-Choreography-Direction: Vidyasagar Raju
Producer: KL Damodar Prasad
"Father-Chitti-Umaa-Kaarthik" is the title of @RanjithMovies ProdNo14
👉https://youtu.be/10pfAFoLRb4
A RomCom with @IamJagguBhai in lead.Others⭐️ing @MrKarthiKKG @Ammu_Abhirami
Shoot completed & planning to release in #Jan2021
Directed by #VidyasagarRaju
Produced by @damukanuri
#FCUK
PRO ; VENU GOPAL