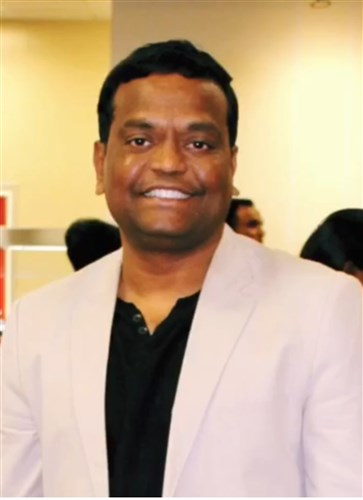 If we develop a love for cinema, it attracts us towards the film industry no matter what profession we are in. As a software employee, Singanamala Kalyan is showing his passion for movies as a producer and financier in foreign countries. Singanamala Kalyan, who produced this year's movie Bhaag Sale through his Cine Valley Movies is producing the new movie Rakshasa Kavyam in partnership with Garuda Productions and Pingo Pictures along with Damu Reddy.
Abhai Naveen, Anvesh Michael, Pawan Ramesh, Dayanand Reddy, Kushalini and Rohini in lead roles, this movie is directed by Sriman Keerthy. The film is going to hit the screens on October 13. On this occasion, producer Singanamala Kalyan talked about the film "Rakshasa Kavyam" and his career journey.
– I was interested in movies from childhood. Professionally I was doing a software job, I have not lost my love for the film industry. I have worked in Europe and Middle East countries. I have been working in a software company in America for the past 15 years. One day producer Damu Reddy was brought to me by Sridhar Reddy of Madhura. "Rakshasa Kavyam" is a good subject. He said that it is a raw and rustic movie in Telangana backdrop. Loved the story line of the movie. That's how I entered the movie production of "Rakshasa Kavyam".
– The story of the movie "Rakshasa Kavyam" is natural, raw and rustic without any melodrama. It is close to what we see in real life. The movie shows the mindset and lifestyle of the lower middle class people and the people living in the slums. There children are addicted to alcohol and sent to work without education. Villains wins in this story. The comedy point of why heroes always win is also new. In our movies, there are also funny scenes that show how the villains are being played down, how the heroes are being hyped.
– A context in Puranas is related to the story of "Rakshasa Kavyam". A rushi coming to Kailasagiri is stopped by two gatekeepers. Rushi gets angry and curses. Will you take ten births as a devotee of your god? Or are they born as enemies of God and take three births? He asks. Then those gatekeepers fail to see our God. It is said that we are born as demons in three births. Those born like that are Ravanasura, Kumbhakarna in Ramayana, Sisupala and Kamsa in Mahabharata, the two gatekeepers of that time and the two were born again in Kaliyuga. One of them prefers villains to heroes. Another appears as a monstrous bully who kills everyone.
– Director Sreeman has screened the story better than he told it. Without any fantasy, melodrama, foreign location shoots, naturally he has made the lives of the people we see in the slums raw and rustic. Today the audience likes negative characters. The success of movies like Pushpa and KGF is proof of that. If the hero is like Buddha, the film will flop. Such a trend is now underway. That's why what Dil Raju garu said in our trailer release is correct.
– Anvesh did good comedy in "Rakshasa Kavyam". He makes the audience laugh with his character. Abhai Naveen is the serious character. He played a rowdy character. Both performed well in their characters. We are releasing our film on October 13. There are no big movies that week so theaters will be available. We want a correct date for our film.
– We are going to make movies consecutively in our Cine Valley Movies. Presently, the post-production of the film Prema Katha, which is being produced by our company in partnership with the head of Tanga Productions, Vijay Mattapalli, is in full stage. We are preparing for release in November. We want to release another movie on Christmas or January. We shot that movie in America in Los Angeles. In our company, we are going to start a new movie in the direction of Sanjeev Reddy in October with Chaitanya Rao as the hero. There is a plan to make big movies with star heroes in our production by next year or the year after that. We are approaching some star heroes.
– Production risk is the same for small films. In the time of Covid, OTTs have benefited by small films. But now it is difficult to give to OTTs. Big films are always in the safe zone. Audiences are not coming to theaters unless the content is good and they are impressed with new stories. Movies like Baby are becoming hits because the content is good and word of mouth has spread. If the movie is good, the collections will be good after the openings.