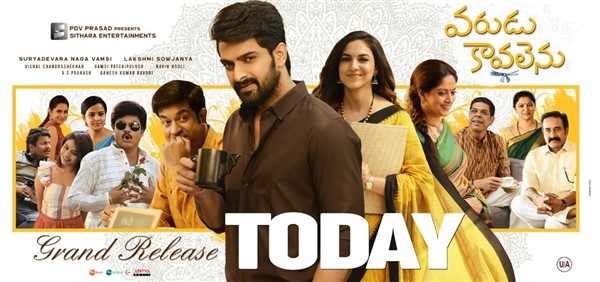 Directed by: Lakshmi Sowjanya
Produced by: Suryadevara Naga Vamsi
Starring: Naga Shaurya, Ritu Varma, and others
Cinematography: Patchipulusu Vamsi, Vishnu Sarma
Edited by: Naveen Nooli
Music by: Vishal Chandrashekhar
Production Company: Sithara Entertainments
Release date: 29 October 2021
Country: India
Language: Telugu
moviemanthra.com;Rating: 3.25/5
Story:
Akash and Bhoomi are classmates. Initially, Bhoomi expresses feelings for Akash but she fails to convey the same to him. They part ways and later meet once again from the professional point of view. When Akash wants to convey his feelings, he also displays hesitation. What happens in the end? Did they convey their feelings? forms the rest of the story.
Performances:
This is Naga Shaurya's best film in terms of his looks, his sense of clothing. As an architect, he is naturally elegant, full of light and life. Ritu Varma, who chose the character that best suited her body language, was once again given a formidable role as Bhoomi. It is an experiment for her and she did well. Nadia, Murali Sharma as Bhoomi's parents played their standard roles. Vennela Kishore, Praveen, Saptagiri take care of the comedy department. The rest of the cast is impressive.
Technical Aspects:
The film's production values are at a good level, Sithara's entertainment deserves credit for his lavish efforts. Vishal C's music is impressive and the on-screen graphics are great for three songs. Thaman also scored the music for the film which is impressive. Vamsi's cinematography is elegant and aerial views of natural places are great. Overall, good job from him. The other technical team worked hard in generating a grand output.
Plus Points:
Performances
Story
Visuals
Music
Minus Points:
Few slow scenes in the second half
Verdict:
'Varudu Kavalenu' is a simple story at first and then goes into easier mode. Within 30 minutes of the start of the film, audiences will notice the impressive dialogue of debutant Ganesh Ravuri. Debutant director Lakshmi Sovyanya got good results, which made female viewers feel connected to the scene. The first half goes without any major twists in such a plot, everything is a direct approach. The second half began with a retrospective from the college, which was not impressive but ended well. The climax takes an impressive turn and ends on a satisfying note. With great performances and an impressive storyline, the film does the magic at the box office.
Punch Line: Varudu Kavalenu is a feel-good romantic drama