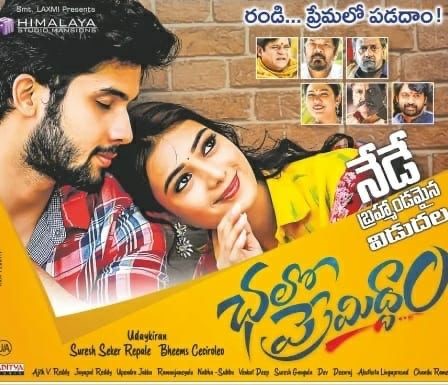 Film: Chalo Premiddam
Starring: Sai Ronak, Neha Solanki, Posani Krishna Murali, Hema, Ali, Bahubali Prabhakar, Surya, etc.
Production Company: Himalaya Studio Menses
Producers: Uday Kiran
Director Direction: Suresh Shekhar Repalle
Music By: Bheems
Release Date: November 19, 2021
Moviemanthra.com;Rating:3/5
Chalo Premiddam is a Telugu movie starring Sai Ronak and Neha Solanki. It is directed by Suresh Sekar Repale.
Story:
Rao (Sai Ronak) comes to Hyderabad for studying Engineering. He falls in love with Madhumathi (Neha Solanki). Madhumathi loves him but hides her feelings. However, she wants her uncle Peddappa (Nagineedu) and brother Sivudu (Surya) to also approve of her relationship. She invites Rao to her village. Meanwhile, Madhumathi gets kidnapped. Who kidnapped her? What did Rao do then? What happens in the end? Forms the story of the film.
Performances:
Sai Ronak played the lead hero in the film. Neha Solanki impresses with her performance as Allari Pilla Madhumati. She has played comedy portions too very well. The dialogue delivery and her looks are impressive in the film. Her chemistry with the hero has worked out well too. Seasoned actor Nagineedu has impressed as the village headman, and Surya displayed a marvelous performance in the role of Shiva, Karumanchi Raghu's comedy is impressive. On the other hand, Bharat and Pawan are good. The rest of the cast is impressive.
Technical Aspects:
Performances-wise, the film is good and the technical team worked hard in coming up with a good output. The film's music is good and all the songs are impressive. The cinematography is rich. The visuals are grand on the screen. The editing could have been a little crisper. The producers spent a decent amount on the filmmaking. They did not compromise in getting what they want for the film. The film unit is extraordinary. The production values are lavish.
Plus Points:
Performances
Direction
Production Values
Story
Minus Points:
Few lags
Verdict:
The story of 'Chalo Premiddam' is about the consequences and how the lead pair faced them. Director Suresh Shekhar Repalle chose the point that the youth will like and he showed on the screen what he thought. He screened the film as Love and Clean Family Entertainer with youthful dialogues, story, and narration. While showing a college love story, on one hand, he also added action elements, on the other hand. The production values are in line with the level of the film. The director did a great job in making an entertaining film.
Punch Line: Chalo Premiddam is a fun-filled entertainer