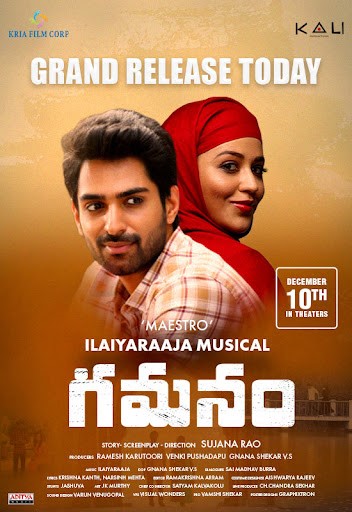 Film: Gamanam
Directed by: Sujana Rao
Written by: Sujana Rao
Produced by: Ramesh Karutoori, Venki Pushadapu, Gnana Shekar V.S
Starring: Shriya Saran, Nithya Menen, Siva Kandukuri, Priyanka Jawalkar, Suhas, Bithiri Sathi, Ravi Prakash
Cinematography: Gnana Shekar V.S
Music by: Ilaiyaraaja
Production Companies: KRIA FILM CORP, KALI Productions
Country: India
Language: Telugu
moviemanthra.com;Rating: 3/5
Story:
The story revolves mainly around three characters in Hyderabad. Kamala (Shriya Saran) is a hearing-impaired person who works as a tailor. Her husband leaves her because of her condition. Ali (Shiva Kandukuri) wants to become a cricketer and loves Zara (Priyanka Jawalkar). The elders will not accept their wedding. Zara leaves from home to get married to Ali. There are two street kids who wants to celebrate birthday in a grand manner. How did their lives cross paths? Did they achieve their goals? What happens in the end? Forms the film's story.
Performances:
Shriya Saran who is a glamorous heroine has changed her gear and played this performance-oriented character in the movie. Her performance is extraordinary in the film. She did very well in the climax. Young hero Shiva Kandukuri is also good in his role. His performance in climax when he is saving the kids stuck in floods is too good. Priyanka Jawalkar who played his pair is impressive. The child artists also did their parts well. Nithya Menen who played a guest character in the film is good. Bithiri Sathi too made his presence felt.
Technical Aspects:
Debut director Sujana Rao came up with a very interesting story. The screenplay is good too. She showcased the reality very well and raised some key thoughts too. The film is grand on the technical front. The visuals look grand and the camera work is extremely impressive. The background score of Ilaiayaraaja is too good. The editing is nice. The production design is excellent. The production values are lavish.
Plus Points:
Performances
Story
Direction
Music
Minus Points:
Slow Narration
Verdict:
The film tells about the internal struggle of any person. The story is a mirror reflection of individuals in the society. The film has a great story that has emotional touch. Shriya as a hearing impaired person, Shiva as an ambitious person and the kids who are in poverty played their parts well. Gamanam presented the everyday struggles that one face in life, in a grand manner. Despite facing struggles, one should achieve their goals and the director Sujana Rao conveyed the same message through this film Gamanam.
Punch Line: 'Gamanam' is an inspiring journey!