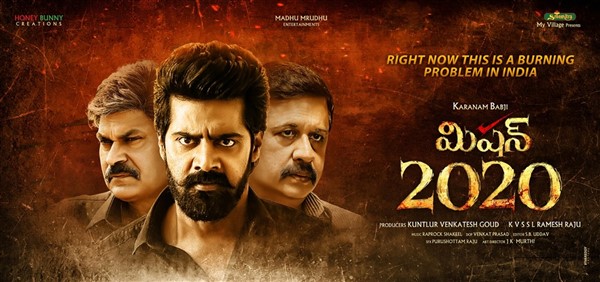 Film: Mission 2020
Release Date: October 29,2021
Starring: Naveen Chandra, Naga Babu, Swathi Sharma
Director: Karanam Babji
Producers: Venkatesham Goud Kontham and KVSSL Ramesh Raju
Music Director: Rap Rock Shakeel
moviemanthra.com;Rating: 3/5
Story:
The film tells the story of Prakash and his four friends. The four friends encounters multiple changes in their lives when they get addicted to porn videos. They also rape and kill their own friend Swathi. And then comes cop Jayanth (Naveen Chandra) into the case. What happens then? How did their lives change? What happens in the end? Forms the film's story.
Performances:
This film shows well how young people today are addicted to pornography, drugs and rape. The message displayed and the premise seem quite realistic. The actors have conveyed the same message in an interesting manner. Navin Chandra is the focus of this film and plays well as a policeman. He is very good in the lead role. The other supporting roles like Naga Babu and Satya Prakash also fit their characters well. The rest of the cast did their best and impressed everyone.
Technical aspects:
The production values of the film is decent, but the music seems extremely good. The film's background music was fine, and the script was elevated well. The camera work is decent, but the editing is equally good. While directing Karanam Babji, his work is good. The entire technical team has worked hard in coming up with an impressive film. The production values are also impressive.
Plus Points:
Performances
BGM and Music
Dialogues
Direction
Minus Points:
Few drags in second half
Verdict:
It is very important to tell a film and add an interesting message to it. The film has got an amazing story idea which is impressive. The makers tried their best in executing their message properly. The film's first half is filled with emotions. The essence of the conflict between the characters is not well established but the way the director ran the story forward is good.
Punch Line: Mission 2020 is an interesting film