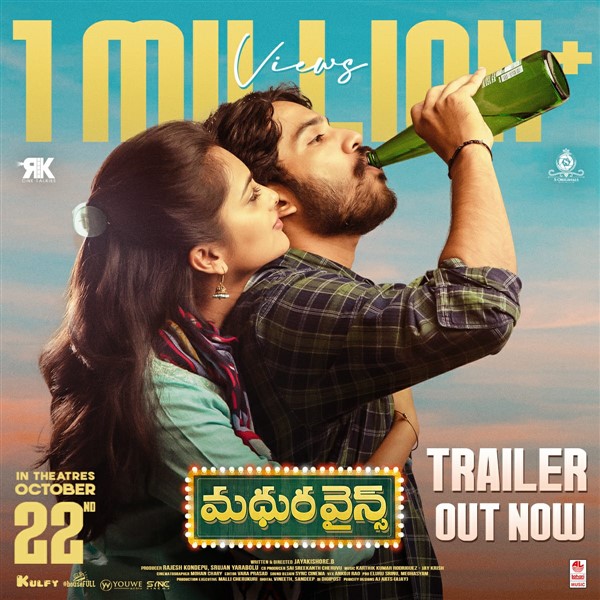 Film: Madhura Wines
Language: Telugu
Director: Jaya Kishore B
Star Cast: Sunny Naveen, Seema Choudary
Produced By: Rajesh Kondepu, Srujan yarabolu
Music By: Karthik Rodriguez, Jay Krish
Release Date: October 22, 2021
moviemanthra.com;Rating: 3/5
Story:
Madhura Wines revolves around an alcohol addict Ajay (Sunny Naveen) who can`t get over the name Madhura and cooks up a story around it. One day, he bumps into the owner of Madhura Wines and ends up discussing how important the name Madhura is to them. He then meets Kiseema (Anjali) who falls for him after knowing his traumatic past. What happens to their relationship? How is Madhura wines connected to them? What happens in the end? Forms the film's story.
Performances:
Starring Sunny Naveen, Sammohit, and Seema Chaudhary in the lead roles, Madhura Wines features a talented cast in the principal characters. Sunny Navin has starred in several short films and made his debut as a male presenter on Madhura Wines. It looks sharp and has dance, block action, and emotion throughout the film. Siema Chaudhari looks great on-screen and performs well too. The romantic scenes with the main couple are very well done and there are many scenes with kisses. Sammohit has done an impressive job as owner of Madhura Wines. The other star cast also performed very well. The cast made their presence felt.
Technical Aspects:
Director Jayakishore B wrote a story about Madhura grapes. The choices he makes and the story is very interesting. The script is calm and the film is realistically presented. This film appeals to young people and families. Music composers Kartik Rodriguez and Jay Krish presented the winning soundtrack. The songs play aesthetically. Romantic songs in particular look really good on screen. Mohan Chari's cinematography is brilliant. The production values are very impressive. It looks like the producers Rajesh and Srudjan didn't compromise on the budget and we see their brilliant work in every frame.
Plus Points:
Story
Performances
Music
Minus Points:
Few lags in the second half
Verdict:
Madhura Wines is one of the youthful films that has come in recent times. The film has got a very interesting storyline that would impress everyone big time. At the same time, the film also has a screenplay that keeps everyone engaged. The way the director ran the film is impressive. The performances from the lead actors is very good. The film can be termed as an honest attempt by the director as it has got the elements of love, drama, comedy, and other emotions. The technical aspects and production values elevated the film perfectly and have made the movie, on the whole, a brilliant attempt.
Punch Line: Madhura Wines is a youthful entertainer. Watch it.