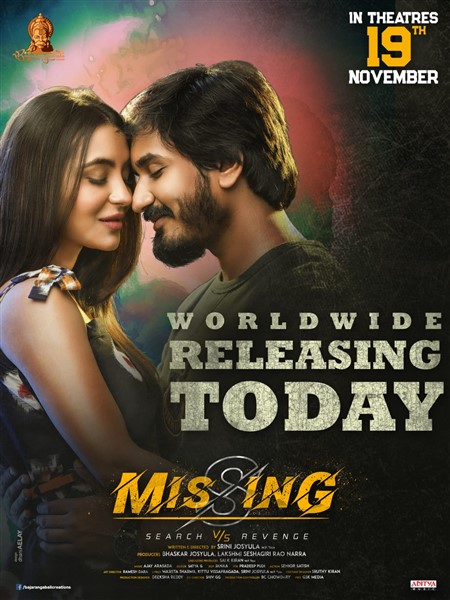 Cast :- Harsha Narra (Goutam),Nikkisha (Sruthi),Misha Narang (Meena),'Chatrapati' Sekhar (C.I kiran),Ram Dutt (ACP Thyagi) Surya (Dr.Surya)
Music :- Ajay Arasada
Editor :- Satya G
DOP :- Janaa
Vfx :- Pradeep Pudi
Stunts:- Senior satish
Art :- Ramesh Babu Dara
Lyrics :- Wasista Sharma
Kittu Vissapragada
Srini josyula (M.F.Tech)
Costume designer:- Shruthy kiran
Production designer:- Deeksha Reddy
Co-director :- Shiv GG
Production controller:- B.C Chowdary
Pro :- GSK Media
Executive producer:- Sai k kiran (M.F.Tech)
Producers :- Bhaskar josyula , Lakshmi seshagiri Rao Narra
Written and directed:- Srini Josyula (M.F.Tech)
Moviemanthra.com;Rating: 3/5
Story:
Gowtham (Harsha Narra) and Sruthi (Nikkesha Rangwala) are happy in their lives. They are good in each other's company. One day, they go on a road trip and meet with an accident. Post the accident, Sruthi goes missing from the accident spot. After getting conscious, Gowtham gets to know that Sruthi is not missing but she has been kidnapped. Who kidnapped Sruthi? What did Gowtham do then? What happened in the end? Forms the rest of the film's story.
Performances:
The main hero Harsha Narra has a nice screen presence and attempted to give his best in the multi-concealed person. However his actual appearance is acceptable, Harsha needs to further develop his acting abilities a ton. He'll have a great future. Another actor Nikkesha Rangwala is charming yet has restricted screen time. The second lead Misha Narang gets an intentional job wherein she works effectively. Be that as it may, her chemistry with the lead actor is extremely impressive and has a good screen preference. Ram Dutt is good as a cop. Chatrapathi Shekar gets a substantial job and did his part pleasantly. The other actors did well.
Technical Aspects:
Music by Vasishta Sharma is great as his chemistry hoists the mind-set of the film pleasantly. Melodies are acceptable on the screen. The cinematography by Janaa is fine as he caught the night temperament shots conveniently with his outlining and lighting arrangement. The sound plan by T Udayakumar is okay. The work of art by Dhara Ramesh is acceptable. The editing by Satya G is sufficient. The production values for this movie are tight and yet impressive.
Plus Points:
Story
Dialogues
Direction
Screenplay
Minus Points:
Few logics missing
Verdict:
In an outline, Missing has a nice idea that has degree to investigate in a far and away superior way. The story is good and the screenplay is nice too. Be that as it may, the film's director Srini Josyula weakened the substance with a level portrayal in the main half and by fusing too many sub-plots in the last half. Notwithstanding a couple of scenes and some elegantly composed exchanges to a great extent, Missing has some extraordinary elements offer to the audiences to watch in the theaters. All we recommend is to hang tight and enjoy this interesting thriller at the box office. Watch it.
Punch Line: Interesting thriller!