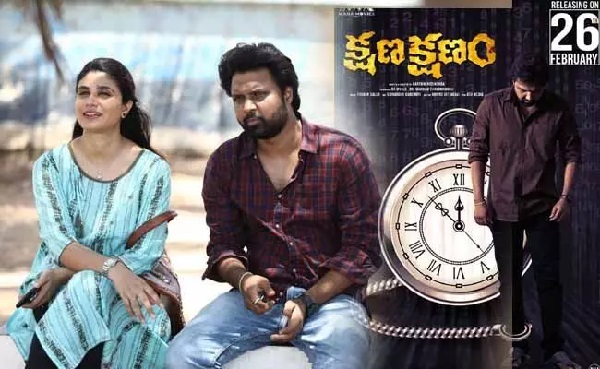 Film: Kshana Kshanam
Release date : February 26, 2021
Starring : Uday Shankar, Jia Sharma, Raghu Kunche, Ravi Prakash,Shruthi Singh, Koti
Director : Karthik Medikonda
Producer : Dr. Warlu, Dr. Mannam Chandramouli
Music Director : Roshan Salur
Cinematography : Sidhardha Karumuri
Editor : Govind Dittakavi
moviemanthra.com;Rating: 3. /5
Story:
Satya (Uday Shankar) is an orphan who is into fishing business. He marries another orphan Preeti (Jia Sharma). However, things are not fine between them and they start quarels. In the meantime, Satya befriends a girl Maya and goes for a date. Maya dies and Satya gets stuck with the police case. What did Satya do then? How did he solve the case? What happens in the end? Forms the film's story.
Performances:
The performance of all the actors is good. In terms of appearance, Uday Shankar tries to portray the many emotions his character shows. It's okay in some scenes, and he did well in scenes with heroines. Actress Jia Sharma is beautiful on screen. She must concentrate more on getting opportunities in great films. Her presence on the screen is very good. Other actors don't play a big role. Actors like Ravi Prakash, Raghu Kunche and others are doing just fine. Music director Koti made his debut as an actor in the film.
Technical Aspects:
The narration is quite okay and the technical team have given their best for the movie. The camera work is good and the music is nice too. The film has good background score and overall, the film is fine with decent production values.
Plus Points:
Performances
Camera Work
Dialogues
Minus Points:
Weak Script
Verdict:
The film's narrative structure is impressive. There are lots of loose ends in the movie that are to be taken care of. The first half of the film slowly dies and a lot of time goes to the build up and other aspects. However, the second half was a little bit exciting with some twists and turns and some interesting scenes. Technically, the film was average. The technical aspects cannot save a film from sinking. The camera works fine. The music is good. The results from the background are also non-standard. Some of the dialogue is good, but some of it doesn't fit the situation in the film. Kshana Kshanam has attractive actors, but a weak script could have been better. On the whole, the film is good in parts with few shortcomings.
Punch Line: Kshana Kshanam is a decent thriller