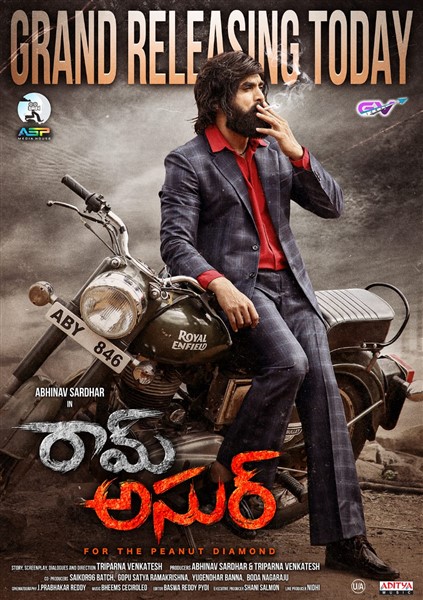 Film: Ram Asur
moviemanthra.com;Rating: 3/5
Release date 19/11/2021
Directed by : Triparna venkatesh
Starring; Abhinav sridhar,Ram karthik,chandini Tamilarasan & others
Ram Asur is a Telugu movie that was released today. on 19 Nov 2021. The movie is directed by Triparna Venkatesh and featured Abhinav Sardhar Patel, Ram Karthik, Chandini Tamilarasan, and Sherry Agarwal as lead characters. Another popular actor who was roped in for Ram Asur is Suman.
Story:
One story is set in 1989 while the other story that runs concurrently is set in 2020. What's the connection between these two stories? Ram (Ram Karthik) is a scientist who is making attempts to come up with a diamond. He fails to make the diamond with 80 percent purity. He fails constantly and he begins to chase the mystery behind these failures. What did he achieve in the end? What did he find? Did he become successful?
Performances:
Abhinav Sardar is impressive as a mass hero and he has played his part well. He is also good as a love failure and young scientist in the film. Chandini who played a rural girl is good in her character. She looked good on the screen, donning the traditional outfits. On one side, Ram Karthik is impressive as a lover boy and on the other side, he is very good as someone trying to make his mark Sherri Aggarwal is also good in her role. Shani played a very important role in the film had the performance is good. The other seasoned actors Suman and Subhalekha Sudhakar are also impressive in the movie.
Technical Aspects:
The director picked up a very good point and came up with a science drama that is not at all boring. The music by Bheems is very good. All the songs are nice and so is the camera work. The editing is impressive. The production values are grand. The technical team worked hard in coming up with a proper film. On the whole, the makers worked well in convincing the audiences with the science fiction drama.
Plus Points:
Plotline
Screenplay
Direction
Camera work
Minus Points:
Few boring scenes
Verdict:
The makers took up an interesting point where a scientist decides to make a diamond via a peanut ingredient. There is enough action-drama to the story which is made in a mass commercial format. The film traces down the incidents that took place 30 years ago and the makers implemented multiple interesting elements to convince the audiences about the film's plot. The way the director blended the elements of science with drama is extremely impressive. The flashback track is impressive and on the whole, it is an engaging sci-fi drama.
Punch Line: Ram Asur is an engaging sci-fi drama!