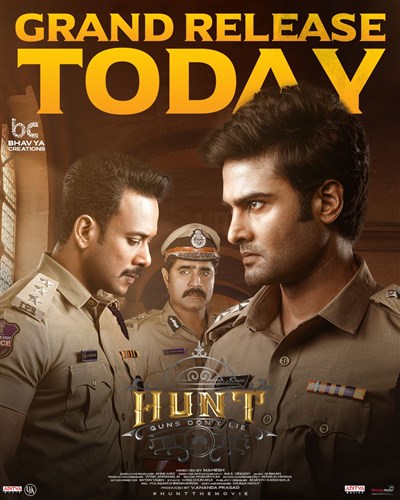 Film: Hunt
Release Date : January 26, 2023
Starring: Sudheer Babu, Srikanth Meka, Bharath Niwas
Director: Mahesh Surapaneni
Producer: V Ananda Prasad
Music Director: Ghibran
Cinematography: Arul Vincent
Editor: Prawin Pudi
Moviemanthra.com;Rating: 3/5
Hunt is a new Telugu film featuring Sudheer Babu in the lead role. The film was released in theatres today, amidst a lot of expectations. The makers are happy with things coming their way. Check out the film's review here.
Story:
ACP Arjun Prasad (Sudheer Babu) meets with a brutal accident due, and then he loses his memory. Before the accident, he investigates his friend Aryan (Bharat)'s murder case. Now, Police Mohan Bhargav (Srikanth) asks Arjun to work on the case. With his memory loss, will Arjun be able to cope up with things? Who killed Aryan Dev? Did Arjun solve the case? Watch the film for more answers of these questions.
Performances:
"Hunt" is a movie that showcases the talent of its lead actor, Sudheer Babu. He delivers a strong performance in both action and emotional scenes, solidifying his position as a talented actor. The film's director effectively utilizes his potential. The supporting cast, including Bharath and Sreekanth, are well-suited for their roles and provide strong performances. Mounika Reddy shines as a police officer, delivering a standout performance. Chitra Shukla also gives a good performance in her role.
Technical Aspects:
The editing could have been better, and the overall impact of the film is hampered due to the slow pacing in certain portions. Despite its flaws, the performances of the lead actors and the director's efforts to bring in fresh elements make Hunt worth a watch. The camera work is impressive, and the visuals have come out well. The dialogues are good, and the screenplay is engaging. The production values are rich, and the technical team did its best to come up with a grand output.
Plus Points:
Performances
Cinematography
Thrilling Elements
Story
Direction
Minus Points:
Few boring scenes
Verdict:
The first half of the film is particularly engaging, with action sequences that are well-integrated into the story. Unlike some films, "Hunt" does not include unnecessary songs and instead focuses on the plot. Overall, "Hunt" is a well-crafted film that highlights the talents of its cast and crew. In conclusion, Hunt is a decent thriller that boasts of impressive performances from the lead actors Sudheer Babu, Bharath and Sreekanth. The film's first half is engaging and has a good amount of action and engaging scenes. However, the second half loses momentum and becomes uninteresting. The climax twist is a bold attempt but it might be well received by all sections of the audience.
Punch Line: A Decent Thriller