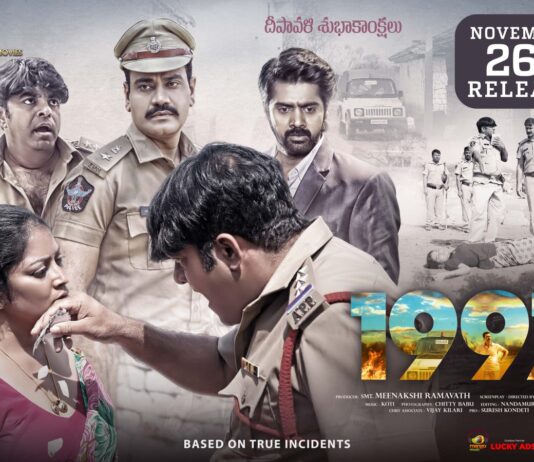 Film: 1997 lo Em Jarigindi
Director: Mohan
Main lead: Mohan
Cast: Naveen Chandra, Srikanth Aiyengar, Koti and others
Release Date: 26th November
Moviemanthra.com;Rating: 3.25/5
Story:
The film is based on caste discrimination in society. There are a lot of atrocities targeted at women from a lower caste in our society. The story takes place in Nizampet village. There is a village head who is the MLA. No one can go against him. At this point, a woman Ganga gets raped and killed. However, her death is framed differently. Vikram Rathod (Dr. Mohan) comes to the village as ASI. He starts the investigation and CI Chary (Srikanth Aiyengar) tries to shift the case away. Amidst many challenges, how did Vikram chase the mystery? Did the village head gets punished? What happened in the end? Forms the film's story.
Performances:
Srikanth Aiyengar steals the show with his performance in the film. He played a negative shaded role in the movie. He displayed a great performance. Dr. Mohan also impressed everyone in the role of VikramRathod. As a police officer, he displayed different shades and entertained the audience. Naveen Chandra's role is limited as an investigative officer but he impressed everyone big time. Music Director Koti also played a key role as the DGP and he also put up a decent show in this character. Ramaraju who played village head is good too. The entire film's cast did their best.
Technical Aspects:
Technically, the film is very strong. Koti is the film's music director and his re-recording is extremely impressive. The way the director drove the story is extremely engaging. Koti's BGM elevated the film's emotion perfectly. The editing is another interesting element of the film. Senior editor Nandamuri Hari edited the film well and the cinematography is also a major highlight. The other technical crew gave their best too. The production values are good.
Plus Points:
Story
Direction
Cinematography
Music
Minus Points:
Few lags in the film
Verdict:
The director must be appreciated for coming up with an interesting as well as relevant subject. Dr. Mohan who is the hero and director of the film has played his part well and came up with a topic that needs to be spoken. With an interesting story and impressive screenplay, he has come up with a serious subject in an engaging manner. The film unit tried to make an attempt to bring a serious subject that is thought-provoking. A very well-made film that needs everyone's appreciation.
Punch Line
: 1997 delivers a strong message!