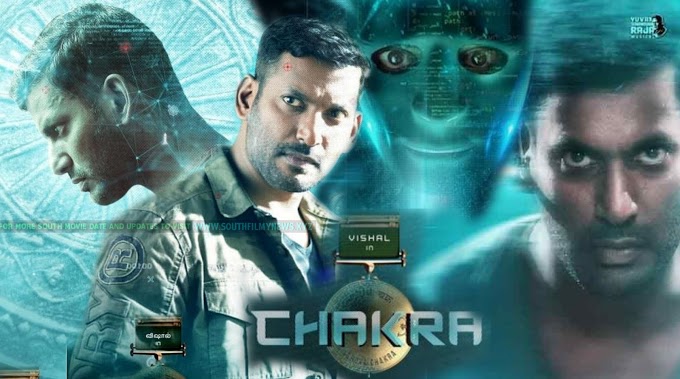 Film: Chakra
Release date : February 19, 2021
Starring : Vishal, Shraddha Srinath, KR Vijaya, Srushti Dange, Manobala and others
Director : M.S. Anandan
Producer : Vishal
Music Director : Yuvan Shankar Raja
Cinematography : Balasubramaniem
Editor : Thiyagu
moviemanthra.com;Rating: 3/5
Story:
Chakra is a cyber-crime thriller where an officer is set on a mission to take down a bunch of goons who practice evil acts on the internet. Police Inspector Gayatri (Shraddha Srinath) is assigned to solve the case. However, she also takes the help of Chandru (Vishal) to solve the case. What did they do together? Is the mission successful? What happened in the end? Forms the story of the movie.
Performances:
A role like this suited Vishal, and he did a great job. He is also good at action episodes. It's refreshing to see Shraddha Srinath as a cop, a welcome change from his usual heroine role. There are other actors who are Chakra's ultimate surprise package. It is inappropriate to surprise and spoils your fun and so we are not revealing any spoilers. The film has got a good casting. The actors supported the lead pair very well. The main leads and the supporting artists have displayed good performances in the movie.
Technical Aspects:
With the exception of the aforementioned logical loophole, screenwriter and director MS Anandan has an interesting idea and implements it fairly well without adding unnecessary embellishments like individual songs or comedies. The film does not really depend on the appearance of the main characters, but it is an intricate script from MS Anandan, especially the second half, which is filled with many twists and turns and keeps the audience busy until the end. The story is the main thread that takes the film forward. The lively backgrounds of star composer Yuvan Shankar Raja, especially in the investigative scenes and action sequences, grabbed viewers' attention and elevated the film very well. Balasubramaniam's lens did the magic. His cinematography is quite adequate and brought to life, especially in the fight scenes recorded at night. Editor Tiagu is also fine. The production values are good.
Plus Points:
Story
Performances
Camera Work
BGM
Minus Points:
Few scenes that don't suit our nativity
Verdict:
Chakra has got the shades of Abhimanyudu but it is not all that. Overall, Chakra makes the watch responsive, but with a few shortcomings. Even though the film is a clever thriller, some forced cinematic freedoms create some gaps in the story. Similar to a cat and mouse sequence hunt, Vishal and the movie antagonist will make up for the shortfall. You can try Chakra this weekend if you are a fan of investigative thrillers. Chakra has got all the elements that could keep you hooked to the proceedings on the screen.
Punch Line: Exceptional Investigative thriller that meets the right chord of audiences