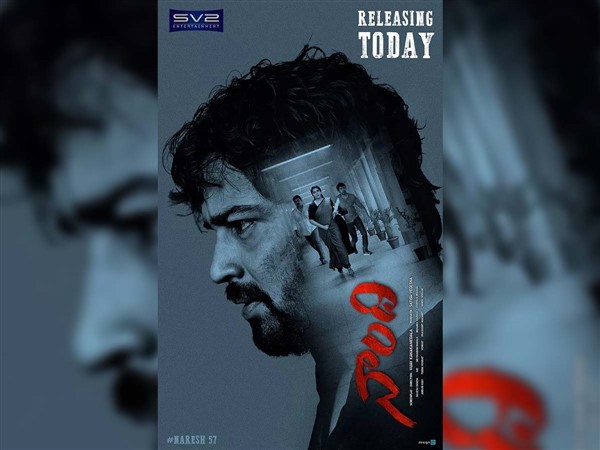 Movie Name – Naandhi (Telugu)
Cast – Allari Naresh, Varalaxmi Sarathkumar, Priyadarshi, Harish Uthaman, Praveen, Navami, Srikanth Aiyyengar, Vinay Varma, Devi Prasad, Pramodhini, Manichandana etc
Director – Vijay Kanakamedala
Producer – Satish Vegesna
Music – Sri Charan Pakala
DOP – Sid
Editor – Chota K Prasad
Writer – Toom Venkat
Dialogue Writer : Abburi Ravi
Art Director : Brahma Kadali
Fights : Venkat
Moviemanthra.com;Rating: 3.25/5
Story:
Surya (Allari Naresh) is a middle class software employee who leads a happy life. He is about to get married to his fiance but suddenly, he gets arrested for a crime that he never commits. He gets arrested for the murder of a noted activist. However, after 5 years, he comes out of the case, with the help of an advocate. Later, what did Surya do? Why did he get framed in the case? What happens in the end? Forms the story of the movie.
Performances:
Allari Naresh is the heart and soul of this film. This is the perfect changeover for him and proves what a gifted actor he is. All he needed is a strong subject to showcase his impeccable acting prowess. Varalakshmi Sarathkumar, who impressed us as Jayamma in Krack, came up with yet another splendid performance. Her role is an author-backed one and she gave completely justice to it. It is commendable on her part for choosing contrasting roles in every film. Praveen got a good role and so is Priyadarshi. Harish Uttaman and Srikanth Iyengar were apt as well. Rest others have done their parts well.
Technical Aspects:
Technically, the film is interesting. It has got good visuals. The tone and mood of the film is impressive. The camera work is excellent. The dialogues are apt for the situations. The editing is neat. The director has penned an interesting story and designed an amazing screenplay. The narrative structure is impressive. The audio album failed to impress but the background score is nice. The drama is too good. All in all, the technical aspects came out well.
Plus Points:
Performances
Story
Dialogues
Minus Points:
More clarity on proceedings in second half needed
Verdict:
Naandhi is definitely not a safe bet for any debut director. Thus, director Vijay should be appreciated for choosing such an intense subject as his debut film. He should get an extra pat on the back for showcasing the movie true to its genre and not sidelining it with unnecessary elements. He shot every scene very carefully and it is evident on the big screen. The emotional quotient is maintained throughout the proceedings which keep audiences connected to the story. However, the director should have handled the investigation scenes in a better way. The climax episode may not appeal to all sections of the audiences. However, the film will be a good watch for everyone who visits the theatres. If you like watching crime thrillers, this is the film to give a shot.
Punch Line: Allari Naresh steals the show in a gripping drama