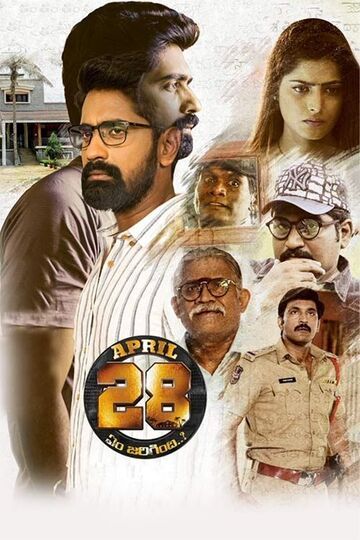 Film: April 28 Em Jarigindi
Cast: Dr Ranjith, Sherry Agarwal, Tanikella Bharani, Ajay, Chammak Chandra and others
Banner: VG Entertainments
Director: Veera Swamy
Music: Sandeep Kumar
Release Date: February 27, 2021
moviemanthra,com;Rating: 3./5
Story:
Vihari (Ranjith) works as a story writer for movies. The producer (Tanikella Bharani) convinces a director (Rajeev Kanakala) to do a film with him and in the meantime, Vihari is called for a story. As he is busy penning the story, he goes on a trip with his wife (Sherry). Since his car gets repaired, he stays in a guest house along with a police officer (Ajay). What situations did Vihari face there? What happened to him? How did it drive him? Forms the film's story.
Technical Aspects:
The narration is quite okay and the technical team have given their best for the movie. The camera work is good and the music is nice too. The film has good background score and overall, the film is fine with decent production values.
Plus Points:
Performances
Camera Work
Dialogues
Minus Points:
Routine Story
Review:
Director Veera Swamy drove the film with a new and exciting point for the movie. The film has been made in an interesting manner. The interval twist and the climax scenes are major highlights of the movie. Every scene has helped the film to raise the emotional graph. The audience is completely involved with the proceedings on the screen. The screenplay by Veera Swamy and Hari Prasad Jakka is amazing. They worked hard and came up with some interesting twists. There is a lot of curiosity around the second half of the film. The film is surely a big relief for all those who are vexed up with routine commercial films. Sandeep Kumar's background score elevates the film to the next level. The film has everything in the right place. Performances-wise, Ranjith did like a mature artist. Although this is his debut film, he worked as an experienced artist in the movie. His performance is impressive. He is natural. He surely has a nice future as an artist. Bharani, Ajay, and others are good in their roles. Chammak Chandra is comic relief. The film is an interesting thriller with perfect elements that will entertain the audiences for two hours without any boring elements.
Punch Line;Do not miss it.