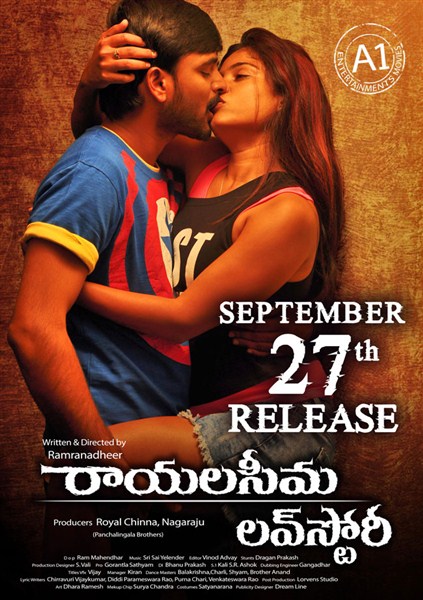 Banner: A1 entertainments
Film; Rayalaseema Love Story
Starring; Venkat,Vrushali,Pavani & others
Music; Sri sai yelandhar
cinematography;Ram Mahendar
Producer;Royal Chinna,Nagaraj
Story Screenplay Direction;Ram Ranadheer
Release date; 27/9/2019
www.moviemanthra.com ratong ;3/5
Despite facing some controversies before the release, 'Rayalaseema Love Story' has finally made it into the theatres today. Ram Ranadheer marked his directorial debut with this film. Panchalingala brothers bankrolled this project. Venkat played the lead role in this movie whereas Hrushali and Pavani played the leading ladies in the movie. Touted to be a romantic entertainer, Sri Sai Yelendar scored music for this movie. Here is the review of the film.
Story:
Krishna (Venkat) who hails from Rayalaseema comes to Hyderabad for SI training. He rents a flat with his friend Srungaram (Nalla Venu). But, as they fail to pay the rent on time, the house owner throws them out of the house. Doctor (Pallavi) gives shelter to both Krishna and Srungaram. One day, Krishna sees Radha (Hrushali) who stays in front of his house and falls in love with her. But, later he realizes that Radha got engaged to someone else. Krishna is heartbroken that Radha also betrayed him like Padma. Who is Padma? What is the relationship between Padma and Krishna? What happened in the end forms the rest of the story.
Highlights:
Venkat's performance
Hrushali's glamour
Entertainment
Songs
Direction
Performances:
Though this is his debut movie, Venkat delivered his best performance and showed maturity in terms of acting. Be it his dialogue delivery or his facial expressions, Venkat is too good in his role especially during the emotional scenes and action sequences. Venkat performed really well and proved that he is definitely a promising actor. Both the heroines Pavani and Hrushali justified their roles completely. When Pavani impressed the audience with her performance, Hrushali will grab the attention with her stunning beauty and especially the lip lock scenes between Venkat and Hrushali will be a delight to watch. The rest of the actors like 30 years Prudhvi, Mirchi Madhavi, Nalla Venu, Jabardast Komaram, Getup Seenu, Nagineedu, Rajamouli delivered honest performances and made their performance made their presence felt.
Technical Aspects:
Ram Ranadheer has came up with a sweet and beautiful love story for this movie. Though this is his debut film, he has showcased all his directorial skills and proved that he has some good story telling capability. He not only made the movie interesting but also succeeded in delivering a good message to the youth. Though some dialogues went overboard, the young can relate with story. Producers also gave best output with limited budget.
Verdict: Overall, 'Rayalaseema Love Story' is a youthful entertainer