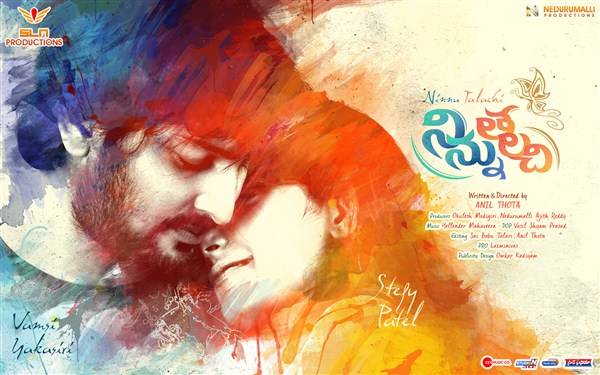 Film: Ninnu Talachi
Release date : September 27, 2019
www.moviemanthra.com Rating : 3.25/5
Starring : Vamsi Yakasiri, Stefy Patel
Director : Anil Thota
Producers : Nedurumalli Ajith Reddy, Modigiri Obulesh
Music Director : Yellendar Mahaveera
Cinematography : Nivas
Editors : Anil Thota, Sai
New hero Vamshi and new heroine Stefy Patel played the lead roles in the film Ninnu Talachi. SLM Productions and Nedurumalli Productions jointly produced the movie that released on this Friday. The review of the film here.
Story:
Abhiram (Vamshi) is a happy go lucky person who is raised in a middle-class family. He comes across Ankitha (Stefy Patel) and falls for her. He tries hard to make her love him and puts a lot of efforts. But, he comes across the fact that Ankitha is seeing someone else. What did Abhi do then? What did Ankitha do? How did the love story end? Forms the story of the movie.
Review:
Directed by Anil Thora, the film has got an emotional love story in the movie. The film has got a lot of love scenes that came up well. Vamshi has played his part well and impressed everyone, especially in the emotional scenes. His dialogue delivery has been exceptional. He is too good in emotional scenes and impressed with the dance as well. Stefy Patel is also good in the role she was offered. The actor who played the hero's friend impressed with his comedy and expressions. The rest of the cast did well in the movie.
There are a lot of interesting dialogues in the film that will impress the youth. The love track is nice as well. The feel good love story in the movie will surely attract the audiences. The songs are nice and the love story is the major asset for the film. The technical team hs given their best for the movie. Anil directed the film well while Satya's camera work has been exceptional. The openings scenes are very nice. The key scenes that come in the second half are shot well.
The music director Mahaveera has composed some nice tunes for the movie. The editing by Sai is neat. Producers Nedurumalli Ajith Kumar and Obulesh have maintained proper production values.
The hero and heroines added a lot of weight for the movie. The director Anil attracted everyone with impressive taking. The love and comedy scenes are nice. The film is entertaining with a good story. Do not miss it.