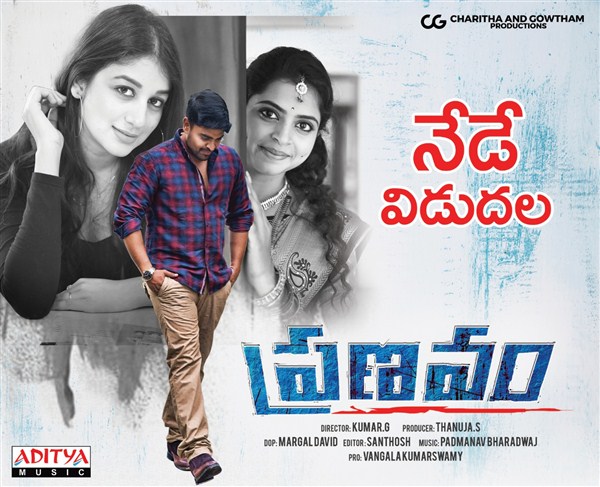 Film: Pranavam
Banner: Charitha and Goutham Productions
Cast: Sri Mangam, Sashank, Gemini Suresh, Avanthika, Gayathri Aiyer
Producer: Thanu S
Direction: Kumar G
Music: Padmanav Bharadwaj
Editor: Santhosh
Fights: Devaraj
Release date: 05-02-2021
Story:
Karthik (Sri Mangam) and Janu (Avanthika) fall for one another at first sight. They then get married and lead a happy life. Unexpectedly, a girl enters their life. After that, Janu goes missing. The missing case becomes a trouble to Karthik as everyone blames him for the same. Who is the girl that entered between the couple? How did Janu go missing? What did Karthik do? Forms the story of the movie.
Performances:
Sri played his role very well. As a fashion photographer and as a playboy, he showed variations in dual characters. Even as a husband, he displayed a mature performance in the film. His body language improved a lot. Avanthika also put a decent performance in the film. Sashank is seen in a cunning role. Gemini Suresh played a stylish yet powerful investigative police officer role. His performance has become a major highlight in the film. Jabardasth Dorababu is okay. The rest of the cast did their best.
Technical Aspects:
Since it is a love and investigative thriller, the music and camera work are crucial. The film is top-notch in both aspects. The music scored by Padmanav Bharadwaj is good. The background score is the major plus point of the movie. RP Patnaik and Usha crooned a song after a long time. The camera work of the film is also impressive. It goes as per the film's mood. The main point of the film that the director picked is good. The screenplay is engaging. The director dealt with the film like someone who deals with the first film. It has come out well. The producers also did not compromise in coming up with the best quality.
Verdict:
When a married couple is leading their life happily, the entry of a stranger can bring a lot of twists and turns and the same has been showing in the film. Although Sri is shown as a playboy in the first half of the film, he also displays negative shades. The reasons given to show variations in his character are convincing. The climax has been dealt with well. The film has got love and thriller elements in equal parts. The film is engaging and it will impress everyone.
Punch Line: Pranavam showers you with love and keeps you hooked!
Moviemanthra.com;Review & Rating: 3/5