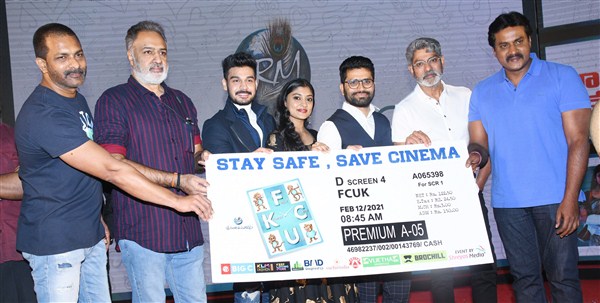 *Festivities mark FCUK (Father Chitti Uma Karthik) Barasala Function |
*Youtube Stars release video songs of FCUK Movie |
*FCUK (Father Chitti Uma Karthik) film will give audiences wholesome entertainment that they have been awaiting – Jagapathi Babu
Preparing for February 12th release is FCUK (Father Chitti Uma Karthik) Movie which has Jagapathi Babu in the lead role along with young pair Ram Kaarthik and Ammu Abhirami. It also has Baby Sahasritha in a pivotal role. FCUK which is an acronym for Father Chitti Umaa Kaarthik has been directed by Vidyasagar Raju and produced by Sri Ranjith Movies led by K L Damodar Prasad.
The Barasala (Pre-release event) function of FCUK Movie that was held on Saturday Evening at Hotel Daspalla of Hyderabad was a high octane event. After having Covid warriors release the vocals of the movie songs, the event became a grand stage wherein YouTube stars released the movie songs music videos with bunch fanfare.
Speaking on the occasion FCUK Movie producer KL Damodar Prasad said that today is a very special day as this is the date on which Telugu Film Industry was born. He said he was happy that on the same day FCUK movie Barasala function was also being held. Recalling the milestones of the 46 year movie making journey of Sri Ranjith Movies, he thanked everyone who made this incredible journey possible. He recounted how FCUK Movie journey started with Jagapathi Babu introducing him to Director Vidyasagar Raju and upon finding his concept interesting, the entire team worked hard to make the movie perfect in every-way possible and the results are now there for everyone to see. Sri Ranjith Movies takes pride in introducing new talent and this movie too introduces new facets of talents of many team members. Shiva as cinematographer has delivered fantastic visuals in his debut. Actor Bala Aditya showcased his new talent as he worked with Karunakar Adigarla to pen the dialogues and lyrics of the film. Music has been composed by Bheems Ceciroleo.
He welcomed the YouTube stars who kept the audiences enthralled during the pandemic to release the songs. 'Selfie Lelo' song was released by Babloo, 'Nenem Cheyaa' was released by Durgarao couple, 'Manasu Katha' by Harika, 'Hey Hudiya' by Dil Se Mahboob, 'Garalapetta' was released by Shanmukh Jashwanth. Among the highlights was the moment when responding to Durgaraos request Jagapathi stepped on stage to sing along 'Nenem Cheyaa' and all other stars joined in to dance. The emotions touched high when Music Director Bheems revealed that as a student he had written to an actor for an autographed photo and actually got it and 20 years later actually got to work with that very actor Jagapathi Babu. Actor Baladitya recalled that he was a child artist in Jagapathi Babus Sankalpam film and now he is excited to be penning dialogues for him. Writer Karunakar thanked Director Vidyasagar for introducing him to writing in his previous film Racheyta. Actor Bharath said director Vidyasagar brought out a new dimension in him and he could hardly recognise himself in the film visuals. Heroine Ammu Abhirami said she felt blessed to be debuting in telugu with such a great film. Hero Ram Karthik said it was an amazing team effort he is delighted the songs have already become a viral hit.
Actor Sunil said that every artist and technician launched by Sri Ranjith Movies had a good carrier and wished the same to everybody involved in this film too. Director Vidyasagar Raju said that he hoped that every one of the Tollywood audience will enjoy this film. Producers council secretary Thumalla Prasanna Kumar, Film chamber producers sector secretary CN Rao were among those who wished the film a success. The movie big ticket was purchased by Hero Sunil for Rupees One Thousand.
Jagapathi Babu said that it was an fantastic idea to get the YouTube stars to release the songs and that everyone is indebted to them for keeping the pandemic year manageable. He compared 300 people working on a movie to the one man show of a YouTuber and said that in itself speaks volumes about their efforts and greatness. Speaking about the movie he said he liked the movie title the moment Director Vidyasagar told him. He said everything about the movie is truly fantastic. He said the amazing success of the teaser itself is a clear indication of how much success the film will be. He said post pandemic the audiences have been awaiting a true entertainer and he was confident that FCUK movie will end that wait.
Actors Kalyan Natrajan, Sri Roopika, Cinematographer Shiva, Live Producer Vasu were among those who spoke.
Movie Name: Father Chitti Umaa Kaarthik
Starring: Jagapathi Babu, Ram Karthik, Ammu Abhirami
Banner: Sri Ranjith Movies
Producer: K L Damodar Prasad
Story / Screenplay / Choreography / Director: Vidyasagar Raju
DOP: Shiva.G
Music: Bheems Ceciroleo
Editor: Kishore Maddali
Art: JK Murthy
Background Score: Jeevan (JB)
Dialogues / Lyrics: Adithya, Karunakar Adigarla
Fights: Stuns Jashuva
PRO: Lakshmivenugopal
Co-Producer: Yalamanchili Rama Koteswara Rao
Executive Producer: Srikanth Reddy Pathuri
Line Producer: Vasu Parimi
L.VENUGOPAL
journalist, P.R.O
+91 9949912346