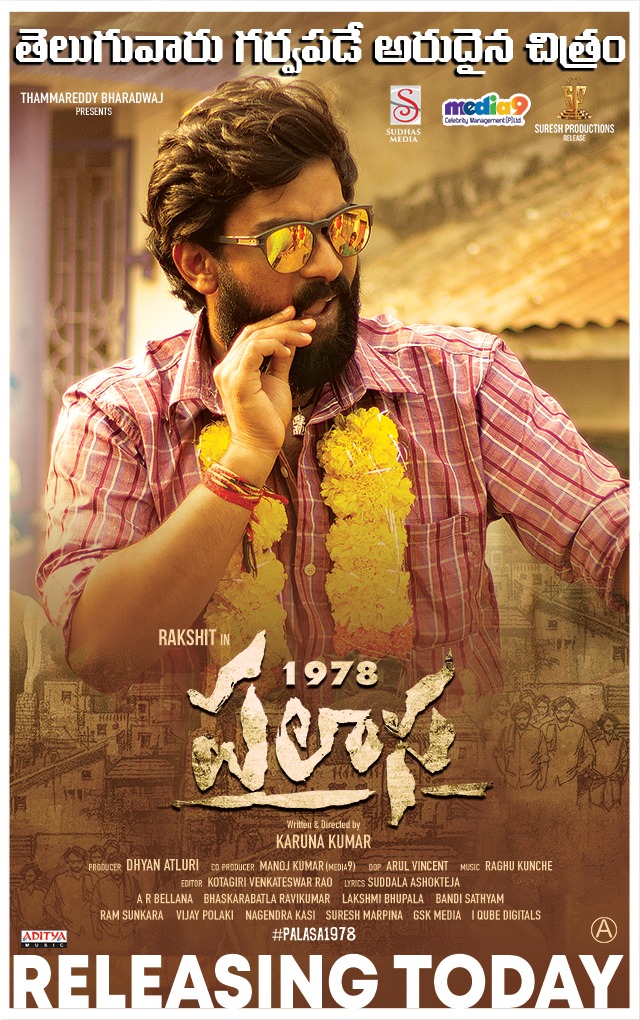 Film: Palasa 1978
Genre: Revenge Drama
Cast: Rakshith, Nakshatra, Raghu Kunche, Thiru Veer, Lakshman and others
Music: Raghu Kunche
Director: Karuna Kumar
Producer: Dhyan Atluri
Duration: 144 minute
www.moviemanthra.com rating: 3.25/5
Release Date ;6 /3 /2020
Story:
Set in a small industrial town named Palasa, the story revolves around Mohan Rao (Rakshit), an artistic young man from a Dalit family who realizes that his talent will never be rewarded and he can only move forward through physical might. Inspired by a henchman from his community who went on to attain power in the area, Mohan resorts to violence. What happened then? How did he overcome the troubles? Forms the story of the film.
Performances:
The film's cast is totally new to the audience. Rangarao, and Mohan Rao roles are key in the film. Thiru Veer and Rakshit played these toles. Rakshit showed a lot of variations in his character. He portrayed fear, anger, and all other emotions perfectly in the film. The actor emoted certain scenes well and did his best in action sequences. Both the actors are good and impressed in the film. There is no big scope for the heroine in the film. Nakshatra is the heroine and her looks are good. She is natural and did well. Kunche Raghu played a key role in the film and he is at his best. The negative role worked well. All the other actors are good and did their best for the film.
Technical Aspects:
Coming to the technicalities, the film has good songs. The movie unit worked really well in making the film sound, in terms of technical aspects. Raghu Kunche has put his heart and soul for the music of the movie and came up with an amazing background score. The screenplay and cinematography are huge plus points for the film. The artwork is nice too. The production values are decent enough and the makers did well with the limited resources. On the whole, the technical team did their best.
Plus Points:
Story
Direction
Screenplay
BGM
Minus Points:
Narration
Slow pace
Verdict:
The discrimination in the name of caste is still relevant in the society and the makers took it as the story element. The director ned to be appreciated for coming up with this sensitive subject. The way he executed it is impressive. He made a perfect balance with everything and came up with a brilliant film. From the time the film begins, there are a lot of high moments. The film starts off in a routine manner but then it takes a turn at one point and from then, it goes to a new level. Most of the scenes are predictable yet executed well. Some of the scenes could have been handled better. The emotional touch is good and the audiences will travel with the film till the end. Overall, it is a nice experience.
Punch Line: Palasa 1978 is a gripping revenge drama