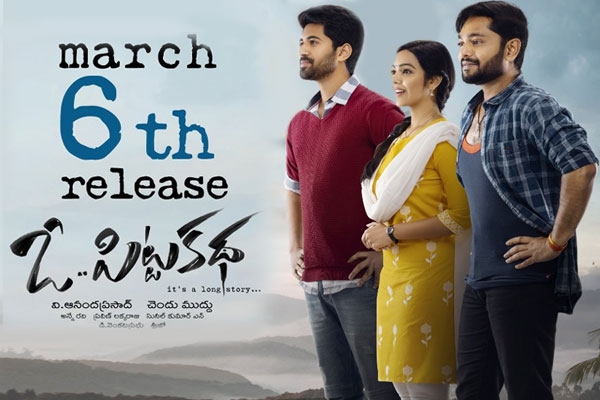 Directed by Chendu Muddhu & Produced by Anand Prasad.
Cast: Viswant, Sanjay Rao, Nitya Shetty & Brahmaji.
DOP: Sunil Kumar N
Songs: Sri Jo
Music: Pravin Lakkaraju
Director: Chendu Muddhu
Producer: Anand Prasad
Banner: Bhavya Creations
www.moviemanthra.com rating: 3.25/5
Story:
Prabhu (Sanjay Rao) has always been in love with his childhood friend Venkata Lakshmi (Nithya Shetty), but soon Krish (Vishwanth) enters her life and falls for her too. However, before she can make a choice she goes missing. Where did she go? What happened to her? What happens in the end? Forms the story of the film.
Performances:
Sanjay Rao got introduced to the film and he impressed with his performance in the movie. His expressions are natural and he has a long way to go if choosing the right kind of scripts. At the same time, he has a lot of improving on. The heroine must also be appreciated. As a child artist, she impressed in a lot of films. She also did a couple of interesting films in the past. Now, this film of hers is good and she played her role well. The other role played by Vishwanth is good. He also put a decent performance in the movie. Brahmaji played the role of a police officer well. The rest of the cast made their presence felt.
Technical Aspects:
The songs are good in the movie. The film's music director worked hard and came up with nice music. There are a lot of good things in the film. The background score is impressive as well. The scenes got elevated well in the movie. The editing is nice and the placement of the songs is good. The screenplay could have been better. The production values are simple yet grand. The camera work is nice and the art is good too. The technical team did their best.
Plus Points:
Twist in the tale
Camera work
BGM
Direction
Minus Points:
Few boring scenes
Verdict:
The film's director Chandu picked up a simple triangular love story for his movie. The kidnap drama is an additional layer added to the film to make it exciting. The way the screenplay is designed is very much impressive and the director tried his best to come up with interesting drama. The entertainment angle is very positive in the film and also worked well in the film. The director took a great care in terms of the story. The film has got a little hype and the movie lives up to it. On the whole, the film is an interesting kidnap drama with entertaining elements.
Punch Line: O Pitta Katha is entertaining film with kidnap drama