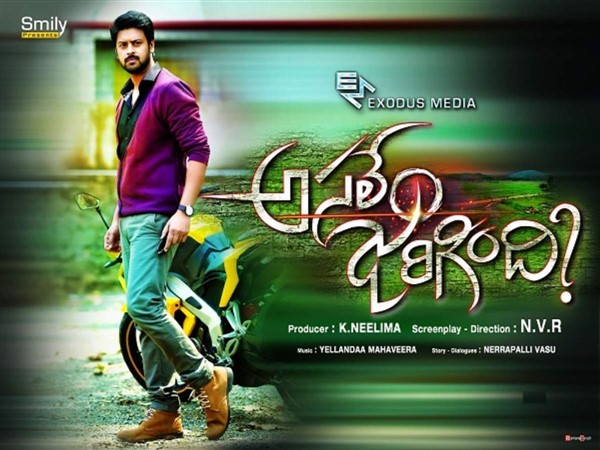 Film: Asalem Jarigindi
Screenplay,Direction;N.V.R
Producer ;K. neelima,jhonson
Starring, Sriram ,Sanchita padukone & others
Music;Yelandaa Mahaveer
Release date : 22/10/2021
Moviemanthra.com;Rating.3/5
Asalem Jarigindi is one of the interesting films in Telugu. Sriram and Sanchita Padukone played the lead roles in the film.NVR who earlier worked as a cinematographer turned the director for this project. Maineni Neelima Chowdary, Koyyada King Jhonson produced the film. Set against a rural backdrop, the film is a suspense thriller with the elements of love, action, and emotions. The film was released today in theatres. Check out the film's review here.
Story:
Sriram is a well-settled doctor who wants to do good for his village. For every Amavasya, there is a death in the village and it becomes sensational. In this scenario, a superpower tries to take over the heroine by killing her parents. Sriram then decides to chase the mystery behind it. Is he successful in decoding the mystery? What is the reason for the deaths? Who is behind it? What happens in the end? Forms the film's story.
Performances:
Sriram is too good in the lead role. After a long time, he got an author-backed role and his performance is impressive. His chemistry with the heroine is good. Kannada heroine Sanchita Padukone did well in the film. As a rural village lady, she is good. The main villain also performed well within his limitations. The rest of the cast is okay and made their presence felt.
Technical Aspects:
The film has good work from the graphics department. The cinematography is rich. The visuals are extraordinary. The rural backdrop has been established very well in the film. The major highlight of the movie is the music. The background score elevated the film perfectly.
Plus Points:
Performances
Visuals
Camera Work
Music & BGM
Minus Points:
Few drags
Review:
The film is based on real incidents. Usually, the films made on real incidents are always interesting. The audiences also receive the films well. The director NVR picked up an interesting crime thriller subject to which he added the elements of love, emotion, and horror. The movie looks good in all aspects, especially the rural backdrop that has been established well in the film.
Had the film had a little more budget, the output would have been exceptional. The film is graphics-based. Despite being made on a shoe-string budget, the makers maintained a decent quality in the graphics.
The director NVR must be appreciated for picking up a subject like this that is realistic and engaging. He is successful in running the film without any boredom.
Punch Line: Asalem Jarigindi is an intriguing thriller