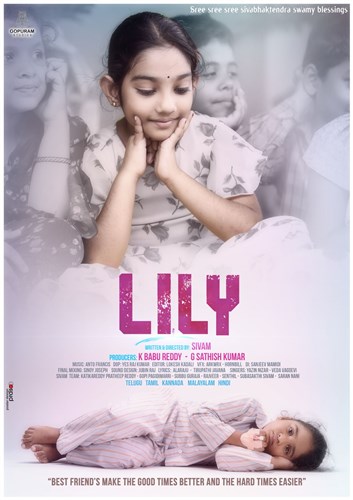 Movie: Lily
Cast: Baby Neha, Baby Pranathi Reddy, Master Vedanth Varma, Rajveer, Michell, Rajeev Pillai, Sivakrishna and others
Banner: Gopuram Studios
Producers: K Babu Reddy, Sateesh Kumar G
Music: Anto Francis
Story & Direction: Shivam
Moviemanthra.com;Rating: 3/5
Story:
Lily (Baby Neha), Divya (Pranathi Reddy), Google (Vedanth Varma) are classmates. One one fine day, when they are playing, Divya becomes unconsiuous and falls down. They start panicking and then Deva (Rajveer) comes there. The story begins then. When he takes Divya to hospital, the actual fact comes out where he finds a truth. What is it? What happened to Divya? What will he do? Forms the rest of the story of the movie.
Performances:
All the child artists have done their parts well. They will have a bright future if they take the profession seriously. At the same time, the other actors too put up decent performances and everyone made their presence felt.
Technical Aspects:
The technical team has worked hard in coming up with a strong output. The camera work is exceptional and the music of the film is highly impressive. The team has worked hard in generating a grand output. The editing is crisp. On the whole, the technical team has given their best.
Plus Points:
Camera Work
Performances
Direction
Story
Production Values
Minsu Points:
Slow First Half
Verdict:
The film Lily released in five languages and the movie has been treated as the pan-Indian childens film. Siva is the newcomer who made his directorial debut with the film. The film takes place in rural area, especially in the region of Kadapa. There are many child artists in the film. The film has got an interesting premise and a film like this has not come in the recent times. Through out the film, the film is emotional and the director conveyed his point properly. There is a lot of depth in the story and the friendship between kids is very natural. On the whole, it is an emotional and interesting film.
Punch Line: An emotional and engaging film