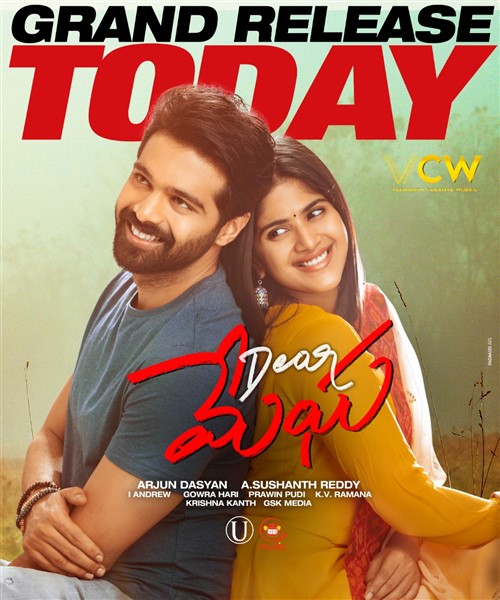 Film: Dear Megha
Starring ;Megha Akash, Adith Arun, and Arjun Somayajula.
Directed by; A Sushanth Reddy
Produced by; Arjun Dasyan under VEDAANSH CREATIVE WORKS.
Music – Gowra Hari
DOP – I Andrew Babu
Audio: Silly Monks Music
PRO: GSK Media
Digital Partner: Silly Monks, Talk Scoop
Digital Media PR: Prasad Bhimanadham
Marketing: Adabala Sai Giridhar, V Srikanth.
Publicity Designer: Ananth
Release date ; 3/9/2021
moviemanthra.com;Rating: 3.25/5
Story:
Megha (Megha Akash) and Arjun (Arjun Somayajulu) are class mates. Both love each other but Megha fails to propose her love to him. When she finally tells him, he accepts the love and they decided to start a new life together. However, unforeseen situations hit their life and Adith enters Megha's life. What happens then? Who did Megha end up with? What happens in the end? Forms the film's story.
Performances:
Megha Akash is apt for the role she played in the film. Both in teenage life and adult life, she has displayed a variation in who she is and how she is. Her performance is the major highlight of the film. The way the director moved the story ahead is good too. There is a lot of ease in the performance of both the leads. Adith Arun is jovial and energetic. His character is impressive. Arjun Somayajulu is good too. Pavitra Lokesh who played the mother character is also impressive. The other actors are good.
Technical Aspects:
The film's background score is the big plus point for the movie. The score has got multiple interesting elements. Hari Goura's BGM is nice and the cinematography is rich. Every frame was shown beautifully in the movie. The editing is crispy. Arjun Dasyam maintained good production values in the film. The technical team did their job so well.
Plus Points:
Performances
BGM
Camera Work
Dialogues
Minus Points:
Slow narration
Verdict:
The film has got a sensitive subject and the love story is impressive. The screenplay is good in this college drama. Adult life and teenage life have been explored well on the screen. The emotions are too good in this triangular love story. The way the director dealt with the sensitive emotional film is very good. The sentiment between mother and son is nice too. The film's pace is slow and the narration is also slow and we feel it dragged a little towards the end of the first half. The twists are good in the film and they keep the audiences hooked to the screen.
Punch Line: Dear Megha is a sensitive subject told beautifully!