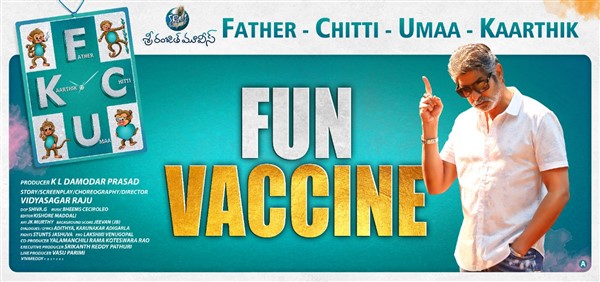 Film: FCUK
Directed by: Vidyasagar Raju
Produced by: KL Damodar Prasad
Written by:Vidyasagar Raju
Starring: Jagapathi Babu, Ram Karthik, Ammu Abhirami, Baby Sahashritha
Music: Bheems Ceciroleo
Cinematography: Shiva G
Editing: Kishore Maddali
Production Company: Sri Ranjith Movies
Release Date: 12 February 2021
moviemanthra.com;Rating: 3 /5
Story:
As the title suggests, FCUK deals with the story of its primary characters Father, Chitti, Umaa and Karthik. Phani (Jagapathi Babu) is a middle-aged businessman who runs a condom-manufacturing company. He shares a good bonding with his son Karthik (Ram Karthik). Phani is a lady-charmer and has a playboy image. Meanwhile, a little girl named Chitti (Sahashritha) enters his life. On top of that, how Phani's lifestyle affected Karthik and his girlfriend Umaa (Ammu Abhirami), forms the major plot of the film.
Performances:
Jagapathi Babu is the main asset of the film. The senior actor carries his role with ease and engages us throughout the film. His character is quite bold and he should be appreciated for taking up such role. Even the lead actors Ram Karthik and Ammu Abhirami have given commendable performances. Baby Sahashritha is cute and bubbly. Bharat did well in a comical role. Rest others have performed will within their limitations.
Technical Aspects:
The concept is quite bold and the director Vidyasagar Raju wanted to explored some taboo issues in the movie. We have to say that he handled it quite effectively. The screenplay is engaging as well. Producer Damodar Prasad should be appreciated for taking up such a story. Music director Bheems Ceciroleo elevated the mood of the film with his cool compositions. JB, who composed the background score, did an exceptional job. Even the cinematography and the editing works have been done well. The production values are good as well.
Plus Points:
Performances of the lead actors
Rare and bold storyline
Music
Cinematography
Minus Points:
Few lags in the second half
Verdict:
Dealing with the topics like virginity, sex and condoms is not very common in the Telugu film industry. The makers chose this subject and succeeded in presenting it in a good way. The director wrote the scenes very well that they can appeal to the present generation audiences. He is a talent to watch out for. All the actors have done their parts well and engaged us with their performances. Though the second half is a bit boring, the climax compensates everything by giving a good message. The music and cinematography also helped the movie in getting a good vibe to it. On the whole, FCUK is a decent watch if you like seeing movies with different concepts.
Punch line: FCUK is a decent family entertainer