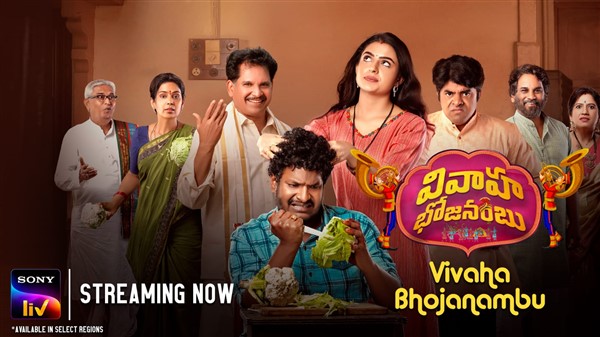 Film: Vivaha Bhojanambu
Starring: Satya, Aarjavee Raj, Sudharsan, Srikanth Iyangar,
Subbaraya Sharma, TNR, Shivannarayana and Sundeep Kishan
Director: Ram Abbaraju
Music Director :  AniVee ;Cinematography :  Mani Kandan
Story by: Bhanu Bogavarapu
Producer: Sundeep Kishan
Distributed by: SonyLIV
Production company: Anandi Art Creations
Release date : August 27,2021
moviemanthra.com;Rating: 3/5
A lot of Telugu films are releasing on OTT platforms. Joining the list, there is the new Telugu film Vivaha Bhojanambu hitting the Sony LIV Ott platform. The film was released today and check out the film's review.
Story:
Satya, a shrewd miser who works as a software engineer is in love with Ramya who hails from a rich joint family. Satya who is a miser takes advantage of the pandemic situation and convinces the families to have a small wedding with close relatives. But soon after the wedding, Ramya's relatives get stuck in Satya's house as a nationwide lockdown has been declared. Satya is now stuck with 14 relatives of Ramya and he has to take care of them for the next 21 days.
Performances:
The film's story mainly revolves around comedian Satya. We can say that he has delivered the best performance in the film. The actor's comic timing is impressive. Satya also delivered a subtle performance in the film. As a middle-class guy, Satya looked good in the film. Arjavi who played the heroine is impressive with her looks and her performance. She looks cute on the screen. Srikanth Iyengar, later TNR, Subbaraya Sharma, and others also played their part well. The other cast also played their roles well. Sundeep Kishan's cameo is interesting too.
Technical Aspects:
The technical team did a very good job in the film. The music and the cinematography are impressive. The editing could have been better. The production values of the film are grand and go well with the film. The director Ram Abbaraju has come up with an interesting story that is very engaging. The screenplay could have been a little better. There are good comedy elements in the film.
Verdict:
The entire setup of the film looks unnatural at some points. There are a lot of entertaining scenes in the film but the screenplay is a little flat. The love track between the lead pair is interesting too. On the whole, Satya's performance in the film Vivaha Bhojanambu stands out as the best. He evoked some good laughs in the film. The screenplay could have been better and apart from that, the rest of the films are impressive. Watch out the film this weekend.
Plus Points:
Performances
Comedy
Story
Minus Points:
Few lags in Screenplay
Punch Line: Impressive Comedy Entertainer