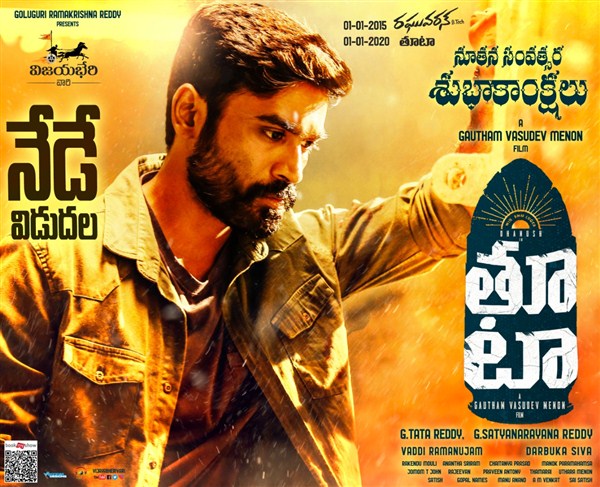 Film: Thoota
Directed by: Gautham Menon
Produced by:  G.Tata reddy
Written by: Gautham Menon
Starring: Dhanush, Megha Akash, and others
Music by: Darbuka Siva
Cinematography: Jomon T. John, Manoj Paramahamsa, S.R. Kathir
Release date: 29 November 2019
www.Moviemanthra.com;Rating: 3.25/5
Story:
A regular college student Raghu (Dhanush) gets dragged into chaos when he falls in love with Lekha (Megha Akash). Both love each other and when they begin their romantic journey, their romance pulls them into controversies that change the course of his life. What happened then? How did it happen? What happens after that? Forms the story of the film.
Performances:
Dhanush saves the movie by giving what it took over the three long years of production and his 'ever 16' physique helps in the continuity of the scenes without much confusion to as which was shot early and which was shot to fill the leftover scenes. Loved the sync and harmony of the casting of Dhanush's family. Sashi Kumar, Dhanush and his father's character all have some kind of real similarities in their features. But the emotional bonding was totally missing and felt staged. Megha Akash is impressive too and has did a great job with the film. The chemistry between the lead pair worked out well.
Technical Aspects:
Technically GVM's films are superbly shot. John, Manoj, Kathir do the honours behind the camera. Darbuka Siva delivers one blockbuster song and other good ones. Dialogues are GVM worthy and direction is standard. All in all, the technical team did an amazing job with the movie and we must be thankful that the film finally released in the theatres.
Plus:
Performances
Screenplay
Direction
Megha Akash Glamour
Music
Minus:
Too many voice overs
Unimpressive lags
Verdict:
The story twists and turns with some money mongering producer's greed involving in arms dealing in Mumbai. The hero saga falls flat when he meets his run away from home brother, played by the poor accented Sasikumar. The romance and action concoction works to an extent as the proportion seems just right. The lead pair's chemistry, Dhanush's performance, and Mega's innocence save the movie. But somehow manages to pick up the pace again with the suspense quotient and ends with a positive note.
Punch Line: Thoota packs a punch with gripping drama