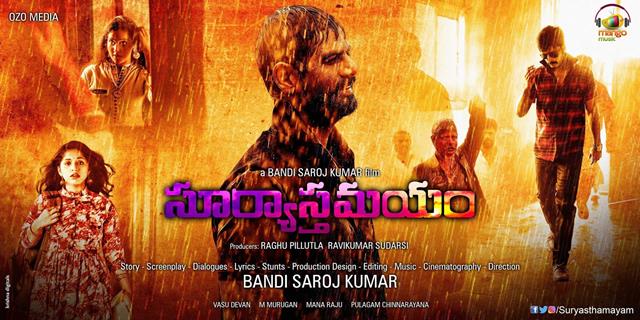 Director-Actor Bandi Saroj Kumar shot to fame with his straightforward interviews. A couple of his movies have been released directly on Youtube. Now, his long-delayed film Suryasthamayam has finally hit the theatres. Check out the review here:
Story:
Che Guevera (Bandi Saroj Kumar) is a sincere police officer. He is an encounter specialist. His next target is the dreaded criminal (Praveen Reddy). In the process of investigating the criminal, Che finds out that the gangster is his childhood friend. What happens next? Will he kill his friend as a part of his job or will he not? This conflict forms the major crux of the story.
Performances:
Director Bandi Saroj Kumar has done a neat job as the hero. As he is the one who wrote the story, he did complete justice to his role. He carried the entire film on his shoulders during the first half. Praveen Reddy comes in the second half and he is superb. He excelled in dance and action sequences. Himanshi was good in her role. Producer Prem Kumar bagged a decent role. Rest others have performed to their limitations.
Technical Aspects:
Saroj Kumar divided the story into three halves, childhood, college life, and professional life of the lead characters. He has written every stage with an engaging screenplay which keeps audiences interested in proceedings throughout the runtime. The film brings a fresh experience to the viewers. The background score is excellent. The cinematography is realistic. Choosing natural and rustic locations helped the film to get a realistic look. Saroj Kumar managed to handle 11 crafts and given his best in most of them.
Review:
Suryasthamayam is a film that is pulled off by a single man named Bandi Saroj Kumar. He has put his heart into it. Right from the first frame, the film keeps us hooked on the proceedings. Both the first and second halves are interesting and make us feel like watching a Hollywood movie. All the technical aspects are good too. Amidst regular commercial movies, Suryasthamayam remains an underdog which needs attention. Watch it for sure.
Final Verdict: A compelling watch.
moviemanthra.com;Rating.3/5