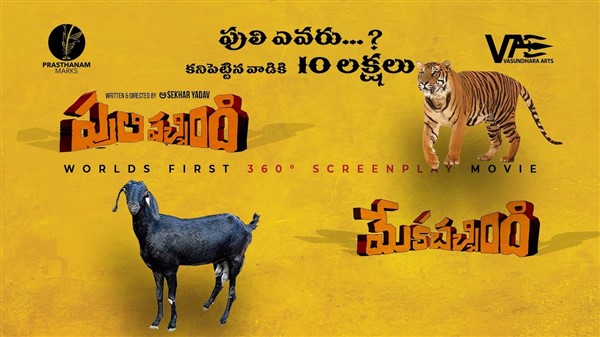 Film: Puli Vachindi Meka Sachindi
moviemanthra.com;Rating: 3/5
Banner: Prasthanam Marks
Cast: Jayalalitha, Chitram Srinu, Anand Bharathi, Govardhan Reddy, Niharika Reddy, and others
Genre: Suspense crime drama
Release Date: December 17, 2022
Story:
Robert (Chitram Srinu), Arunakumari (Niharika Reddy) is a couple. Yogi (Vasudev) and Vaishali (Varsha) and Manu are their children. They are a happy family. As everything goes smoothly, then arrives a plot made by Yogi and Vaishali to kill Manu. Manu's mother Aruna and father Robert die in the house. How did they get killed? What happened to them? What happens in the end? Forms the film's story.
Performances:
On one side, he looks soft and on the other side, he expresses a cruel mentality. With these dual shades, the character Robert gives his best as an actor. Chitram Srinu impressed everyone big time. Niharika Reddy is also very good in her role. She not only impressed with her looks but also impressed with her performance. Varsha played a handicapped person while Vasudev played a cunning brother in the film. All the other actors played their parts well and impressed everyone big time. The cast is a big plus for the movie.
Technical Aspects:
Rajasekhar Yadav is the film's director who teamed up with his friends to bring the film to the audience. The film unit promoted it as the world's first 360-degree screenplay film. The curiosity of the audience is very much intact throughout the movie. The narration is impressive and refreshing. The camera work is impressive and the visuals are grand. The editing is crispy. Technically, the team is good. The production values are grand.
Plus Points:
Performances
Camera Work
Story
Minus Points:
Few lags
Verdict:
Puli Vachindi Meka Sachindi is an interesting film where the promotions grabbed everyone's attention big time. The makers tried to grab the attention by announcing prize money of 10 lakh rupees. It is a suspense drama where the story revolves around an IAS officer and his friend. The plot is simple but the screenplay is refreshing. The film is made as two parts but no one gets that feeling. The film's first part is thrilling and the ending is interesting as well. The suspense drama is very much engaging. There is no confusion in the film's screenplay. From the beginning to the end, the audience will enjoy watching the film.
Punch Line: Engaging suspense drama