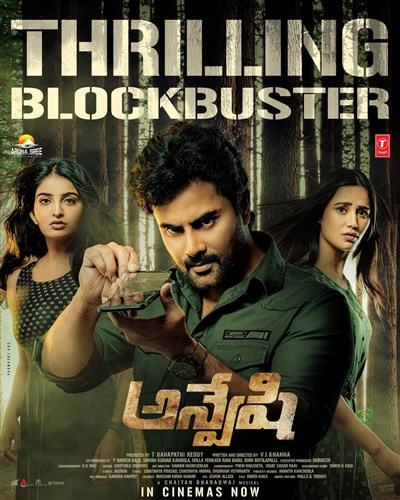 Film; Anveshi
Starring:Ananya Nagalla, Vijay Dharan Datla, Simran Gupta, Ajay Ghosh and othersavi, satyasri, Immanuel, Rajamouli
Director: V J Khanna
Producer: T Ganapati Reddy
Music Director: Chaitan Bharadwaj
Cinematographer: K K Rao
Editor: Karthika Srinivas
Release Date : November 17, 2023
www.moviemanthra.com;Rating: 3/5
Anveshi, directed by VJ Khanna and featuring Ananya Nagalla, Vijay Dharan Datla, and Simran Gupta in pivotal roles, graced the screens today. Let's delve into the film.
Plot:
Responding to her father's plea, Dr. Anu (Ananya Nagalla) establishes a hospital in her hometown, extending healthcare services to the locals. Tragedy strikes as the hospital mysteriously catches fire, claiming the lives of Anu and her father. Subsequently, a string of murders unfolds near the site of Anu's erstwhile hospital. Vikram (Vijay Dharan Datla) embarks on a quest to unravel the truth behind these deaths. Who is the elusive killer? What steps does Vikram take to uncover the mystery? These questions lie at the heart of the narrative.
Performances:
Impressive performances by Vijay Dharan Datla, Simran Gupta, and Ananya Nagalla, with Ajay Ghosh stealing the spotlight. Vijay Dharan's confident portrayal, coupled with elements such as forest scenes, serial murders, and the protagonist's pursuit of truth, contribute to a decent viewing experience. Simran Gupta, with her captivating looks and compelling performance, stands out. Despite limited screen time, Ananya Nagalla leaves a lasting impression. Certain crime-centric scenes in the second half are commendable, with Racha Ravi, Dil Ramesh, and the supporting cast delivering as expected.
Technical Aspects:
Chaitan Bharadwaj's background score is engaging, complemented by KK Rao's visually stunning cinematography that enhances the film's value. Adequate editing and a commendable production effort by Ganapathy Reddy, who maintains the budget without compromise. Director VJ Khanna successfully executes the climax and action sequences, although other portions fall short.
Plus Points:
Performances
Dialogues
Direction
Production Values
Minus Points:
Few Lags
Verdict:
Thrilling moments are there in the film, and attempts to elevate the film fall short. The first half suffers from a slow screenplay and tedious scenes, as the director takes his time introducing characters and conflicts. The resolution of the villain's character has impact, and the humor, while occasionally effective, fails to consistently land. The film's simplicity and routine narration hinder its overall impact. In summary, Anveshi emerges as an underwhelming thriller. The commendable performances by the lead trio, a good screenplay andpace are good. On the whole, it is an impressive thriller.
Punchline: Anveshi is an interesting thriller