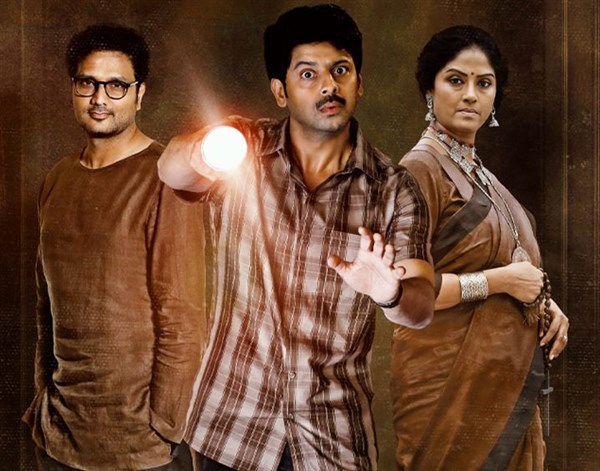 Roja Poolu, Aadavari Matalaku Ardhale Verule fame Sriram, Kushee Ravi are pairing up for a horror thriller Pindam, directed by a newcomer Saikiran Daida. Yeshwanth Daggumati of Kalaahi Media produces it. The first look, teaser and the song from the film have released to encouraging responses from audiences. Ahead of its release later this month, the makers shared interesting insights into its making with audiences.
Director Saikiran Daida on his experiences:
I was inspired to write this story based on a gruesome incident narrated by my grandma and felt the horror genre was the best way to interpret it on screen. The script took great shape with time. I and Kavi Siddartha ensured that there's a scary block every 10 minutes and we stayed true to the genre. The screenplay developed organically.
I am someone who generally doesn't scared easily, but after noticing a few eerie incidents on set, my perspective changed. There was some practical problem every day since we began the shoot, so much that we had to take a 'dishti' of the set in which we were shooting. Despite that there were multiple setbacks, but we all rose above it to make a thrilling film.
Casting child actors wasn't easy at all, our executive producer ensured I got everything I asked for. Extracting performances from children during the nights were difficult. Easwari Rao's dates were an issue but we still managed to shoot as per schedule. Making a horror film is a challenge technically and we had a capable team who were driven by a single vision.
Sriram on why Pindam is a true horror film:
Pindam was one of the best experiences I had on a set. The director was very clear about what he wanted and made us feel comfortable. Generally, filmmakers dilute the horror genre with a lot of unnecessary commercial elements and songs but he stayed true to the story. All of us were committed to make a film that'll genuinely scare crowds. There was one particular scary incident where Easwari Rao garu would've almost lost her eye. The film will keep audiences invested in the storytelling and offer many surprises.
Srinivas Avasarala on his learning curve with team Pindam:
I said yes to Pindam after watching a short film – Smoke – that I really liked. I am always excited to work with young directors and teams. More than watching films, working with such teams provides you a new perspective to the craft. I found Pindam to be a learning curve and thoroughly enjoyed the opportunity. Screenplay is always the backbone of any film and Pindam will surprise you.
Kushee Ravi on how she prepped for her role:
I was really excited about the idea of working for a horror film. I play a pregnant woman in my segment set in the 90s and I had to put on weight to look my part. For a change, I could forget my diet, eat well and be healthy while I came to the set. I had to look like a woman from a different decade who's slightly plump. The ambience of the set was also scary and it helped me get into the mood of the film.
Kavi Siddartha on co-writing the screenplay with the director:
Pindam is a script that has beautifully evolved with time and we liberated the story for it to flourish and take interesting turns. Times may change, but the grammar of a script won't and one must adapt to varying tastes to develop a good script. The film will offer a refreshing experience to audiences.
Meanwhile, cinematographer Satish Manoharan shared that he had good sync with the filmmaker Saikiran Daida and that the team responded to the challenges of making a horror film well. Composer Krishna Saurabh expressed confidence that the film will live up to the scariest film ever caption. Pindam will unfold across three timelines – present-day scenario besides dating back to the 1930s and 1990s.
Cast: Sriram, Kushee Ravi, Easwari Rao, Avasarala Srinivas, Ravi Varma
Crew
Banner: Kalaahi media
Presents: Aarohi Daida
Story: Saikiran Daida , Kavi Siddartha
Writer & Director: Saikiran Daida
Dop: Satish Manohar
Music: Krishna Saurabh Surampalli
Executive producer: Suresh Varma V
Costume designer: Padma priya penmatcha
Art director: Vishnu Nair
Editor : Shirish Prasad
Stunts: Jashva
Line producer: Srinivas penmatcha
Co-producer: Prabhu Raja
Producer: Yeshwanth Daggumati