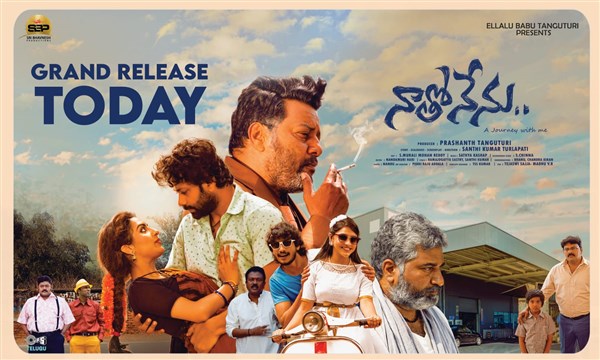 Movie: Naatho Nenu
Cast: Sai Kumar, Srinivas Sai, Aditya Om, Deepali Rajput, Aishwarya Vullingala, Vijay Chander, Rajeev Kanakala, Sameer, C.V.L.Narasimha Rao, Gowtham Raju, M.S.Chowdary, Bhadram, Suman Setty and others
Banner: Sri Bhavnesh Productions
Presenter: Ellalu Babu Tanguturi
Producer: Prashanth Tanguturi
Director: Santhi Kumar Turlapati
D.O.P: S.Murali Mohan Reddy
Music: Satya Kashyap
Background: S.Chinna
Editor: Nandamuri Hari
Art Director:Peddiraju Addala
Lyrics: Ramajogayya Sastry, Santhi Kumar
Choreographers: Bhanu, Chandra Kiran
Moviemanthra.com;Rating: 3/5
"Nato Nenu" is a film that marks the directorial debut of Shantikumar Toorlapati, known for his comedic prowess on the small screen. The movie boasts a talented cast, including Dialogue King Saikumar, Rajeev Kanakala, Aditya Om, Srinivas Sai, Aishwarya, and Deepali Rajput.
Story:
The plot revolves around Koteswara Rao (Saikumar), a wealthy man in a village who contemplates suicide due to personal issues. However, Swamiji Koteshwara Rao intervenes and grants him a boon, setting off a chain of events. The story also delves into the love triangle between Kotigadu (Sai Srinivas), Deepa (Aishwarya), and Nagalakshi (Deepali), with Aditya Om portraying a mill worker involved in a complex romantic entanglement.
Performances:
Saikumar delivers a brilliant performance as the affluent and respected millionaire, while Aditya Om impresses as a man deceived into a loveless marriage while working at the mill. Sai Srinivas does justice to the role of Prema's heartbroken lover. In his directorial debut, Shanti Kumar crafts a well-written narrative surrounding the three central characters, though some execution issues arise. The film strikes a chord with its emotional and comedic sequences, featuring impressive retro and item songs. However, their characters could have been further developed to enhance the movie's overall impact. The chemistry between Sai Srinivas and Aishwarya resonates well with the younger audience.
Technical Aspects:
The film does have some pacing issues in the first half, and the music could have been handled better. Nonetheless, despite being relatively new in the industry, the producers' commitment to maintaining high production values shines through. Saikumar's touching dialogues add depth to the film, while Rajeev Kanakala, CVL Narasimha Rao, and other supporting actors deliver strong performances in their respective roles.
Plus Points:
Performances
Story
Direction
Production Values
Minus Points:
Few lags in the second half
Verdict:
The movie centers around the notion that life should be more than just pursuing wealth. Saikumar, Aditya Om, and Sai Srinivas embody characters that represent different stages of life (the 20s, 40s, and 60s, respectively), and this portrayal is commendable. The director effectively conveys that prioritizing money over everything else leaves life meaningless. In conclusion, "Nato Nenu" entertains the audience with its engaging storyline and meaningful message.
Punch Line: Engaging film with a beautiful message!