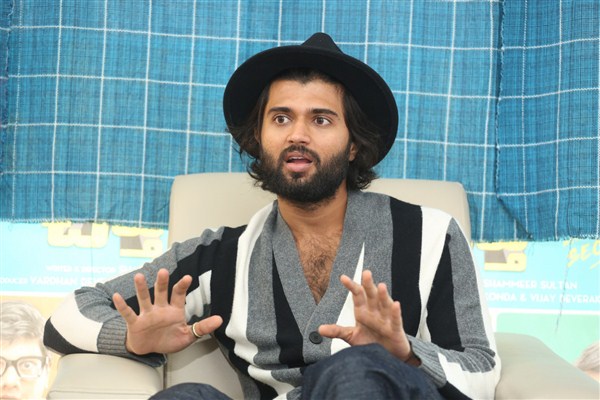 Vijay Devarakonda has turned into a producer for an upcoming comedy entertainer 'Meeku Matrame Chepta' starring Tharun Bhaskar, who previously helmed Vijay Devarakonda's super hit movie 'Pelli Choopulu'. Abhinav Gomatam, Anasuya Bharadwaj, Vani Bhojan, Naveen George Thomas played crucial roles in this movie, which is slated to hit the theatres tomorrow on November 1st, 2019. As a part of promotions, Vijay Devarakonda have been participating in some interviews and has been revealing some interesting things about the film.
How did you become a producer?
After 'Pelli Choopulu', movie director Sameer Sultan and Arjun approached me. I've already watched their short films by then and was impressed with their skills. So, I promised that I would definitely do a movie with them. But, after listening to the script I thought that the script wouldn't be apt for me. So, instead of acting in it, I became a producer.
What made you select Tharun Bhascker as the lead actor?
Tharun is a really good actor. While we were doing 'Pelli Chupulu' movie, he used to enact some scenes for us and he used to act so well. We thought that he would be the right choice for the script.
How involved were you as a producer?
I was involved in the script changes. After finalizing the script, I haven't got involved in the film. I went to the sets only once during the shooting.
What is the budget of the film?
I invested around 70% of all my earnings in this film. My dad even suggested me to concentrate on acting instead of production. But as a script is really good, we went ahead. However, I completely believe in this team.
What is the best element of 'Meeku Matrame Chepta' story?
I was laughing so hard during the entire narration. I am confident that the audience will also leave the theatre laughing and will think that they have enjoyed the film thoroughly.