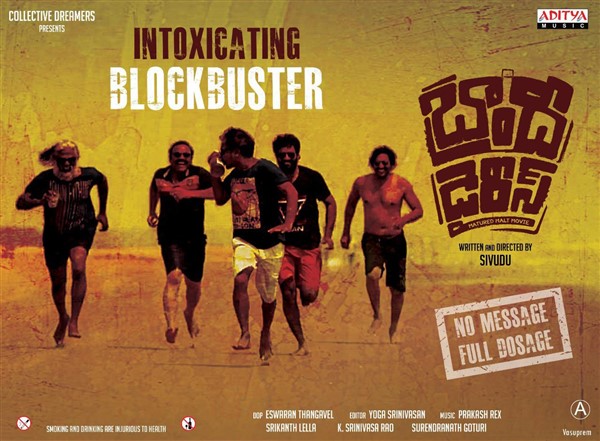 Film: Brandy Diaries
Cast: Sunitha Sadguru, Naveen Varma, KV Srinivas, Ravindra Babu, Dinesh Madna
Cinematography: Eeswaran Thangavel
Editor: Yoga Srinivas
Music: Prakash
Banner: Collective Dreamers
Producer: Lella Srikanth
Writer and Director: Sivudu
moviemanthra.com;Rating: 3/5
Release date; 13/8/2021
Review:
Brandy Dairies revolves around certain characters. Sekhar, Srinu, Varma, Jhonson, and Koti are classmates. Sekhar is a deputy MRO. Srinu studies for civil exams. Jhonson is a happy-go-lucky guy. Varma is a genius and Koti works for a chappal company. They meet frequently to talk about the problems in their lives.
Sekhar is a government employee who dislikes corruption. His wife is angry with him that he is not bringing extra income to home. Varma crosses the middle age but he is a bachelor. Srinu is trying hard to settle in his career. Everyone is different in their journeys. The director tried to convey human emotions with these diverse characters. Srinu is the hero in the film. He loves Bhavya. His addiction to alcohol becomes an obstacle for his love life. How did the life of these 5 people turn around form the film's story?
The director tried to portray life and different elements of life through the five lead characters. Love, Marriage, Friendship, and Career are important things for everyone in life. Brandy Diaries is an intelligent film that brings out the reality in life. The film is realistic and connects to everyone who is struggling.
Brandy Diaries' team did not use any liberties to convey their point. The way five characters lead life and how did they arrive at different places is the film's story. The film symbolically presents life on the big screen.
Sunitha Sadguru, Naveen Varma, KV Srinivas, Ravindra Babu, and Dinesh played their parts very well and did justice to them. Prakash's music is a big highlight of the film and it attracts the listeners. The background score is impressive in many ways too. The camera work has come out well and the technical aspects are impressive. The makers never compromised for the film's making. Srinu and Bhavya are good in the film. The romantic scenes in their combination are impressive. The youth will easily connect to the film. We have seen many of the characters in the film, in our real lives. Sekhar's character is too good. Sunitha as Bhavya is equally impressive. Her smile and emotional performance depict life in its true form.
Brandy Dairies gives the perfect kick to the youth. Everyone must watch the film. Watch out with your friends this weekend.
Plus Points:
Performances
Story
Screenplay
Music
Minus Points:
Few lags
Final Verdict: Brandy Diaries is a realistic tale!