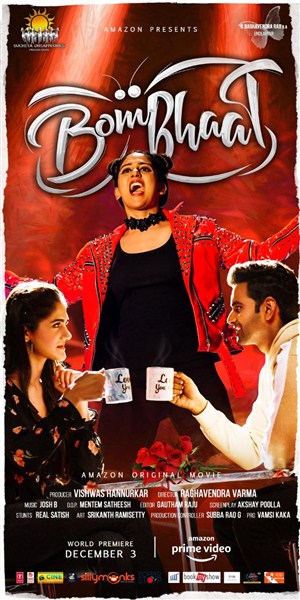 Movie Review: Bombhaat
Director : Raghavendra Varma
Producer : Vishwas Hannurkar
Music Director : Josh B
Starring : Simran Choudhary, Sai Sushanth Reddy, Chandini Chowdary
Release Date: 3rd December 2020
Bombhaat Movie;Rating: 3.25/5
Review: Simran Chowdary , Sai Sushanth Reddy, Chandini Chowdary starrer Bombhaat is available on Amazon Prime and let's see the story of this film.
Story: Vicky (Sushant) is a guy who is always unlucky in life & he becomes good friends with a scientist Acharya (Shishir Sharma), who dies in an accident and leaves his daughter Maya (Simran Chowdary). Another scientist (Makarand Deshpande) is after Maya. Vicky gets a shock when he comes to know that Maya is none other than a humanoid robot. What is the whole science fiction angle in this film? Who killed Acharya and why? To get these answers, one should watch the movie on silver screen.
Plus Points:
Artists Performance
Songs
Production Values
Execution
Minus Points:
Screenplay
Dull scientific angle
Run-Time
Performance: The performance of Simran Choudhary is one of the major assets of this film Bombhaat. She gets a crucial role but she is highlighted. Simran holds the audience well with her looks. Sai Sushanth Reddy is good in his role. Makrand Deshpande does not have much to do but justifies with his role. Shishir Sharma, Tanikella Bharani and Hema are fine. Priyadarshi' performace is something interesting.
Technical: Production values of the film Bombhaat are decent. The cinematography work by Mentem Satheesh is okay, wherein editing by Gautam Raju is not upto the mark. Production values of Sucheta Dreamworks Productions is good. The dialogues are decent. The Lyrics of the songs are quite good. Coming to the work of the director Raghavendra Varma, as a debutant he was successful to impress the movie lovers with the story and its execution.
Finalword: Bombhaat is a good entertainer for OTT viewers.
PRO; Paul pawan 9849128215