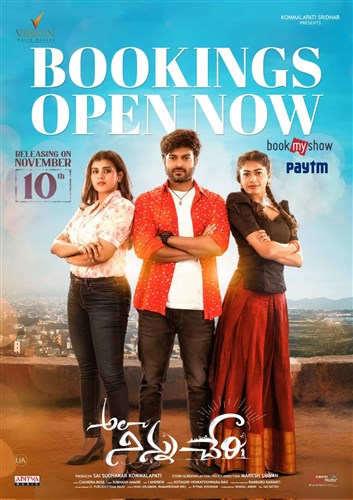 Film: Alaa Ninnu Cheri
Director: Maresh Shivan
Producer: Kommalapati Sai Sudhakar
Caat: Dinesh Tej, Hebah Patel, Payal Rashakrishna and others
Release Date: Fri 10th Nov 2023
www.moviemanthra.com Rating: 3/5
"Alaa Ninnu Cheri" starring Dinesh Tej, Payal Radhakrishna, and Hebah Patel is poised to enchant audiences. Directed by Maresh Shivan, the film, scheduled for release on November 10, 2023, promises a delightful blend of romance and youthful elements, evident from its engaging teaser and trailer.
Story:
The story revolves around Ganesh (Dinesh Tej), a young aspiring director in the picturesque city of Vizag. His life takes a romantic turn when he encounters the charming Divya (Payal Radhakrishna), leading to an unexpected love story. As the plot unfolds, Ganesh grapples with a pivotal decision—choosing between his love for Divya and his unwavering passion for filmmaking. The film explores the intricate dynamics of love and ambition, revealing the tough choices one must make in the face of unforeseen circumstances.
Performances:
Dinesh Tej delivers a commendable performance, capturing the innocence, dedication, and passion of his character. His expressive portrayal takes the audience through a romantic journey that later encounters heartbreak. Payal Radhakrishna shines with her enchanting presence, bringing charm to the romantic sequences with her bubbly and cute demeanor. Hebah Patel, portraying Anu, adds authenticity to her role with a convincing Telangana accent. The supporting cast, including Mahesh Achanta, Jhansi, Khedar Shankar, Shatru, Shivakumar Ramachandravarapu, and Mahboob Basha, contribute effectively.
Technical Aspects:
Subash Anand's musical prowess adds to the film's romantic essence, with beautifully crafted tunes enhancing the overall experience. Andrew Babu's cinematography captures Visakhapatnam's scenic beauty authentically, while Kotagiri Venkateswara Rao's editing, though generally competent, occasionally allows the film's pace to lag.
Plus Points:
Performances
Music
Story
Direction
Minus Points:
Few lags
Verdict:
"Alaa Ninnu Cheri" attempts to present a heartwarming romantic tale. Director Maresh Shivan introduces freshness to the routine story, particularly in the first half, focusing on youthful and romantic elements. Despite its flaws, the film delivers a heartfelt romantic narrative, supported by a compelling soundtrack and visually appealing cinematography. "Alaa Ninnu Cheri," directed by Maresh Shivan, unfolds as a feel-good romantic entertainer. The screenplay is well-structured, and the direction remains concise, maintaining the narrative's momentum.
Punchline: Alaa Ninnu Cheri us a heartwarming rom-com!