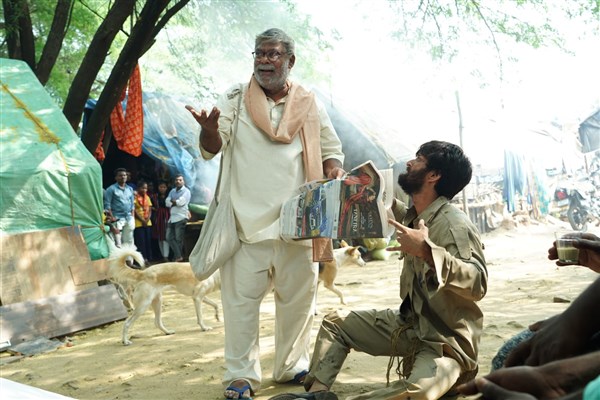 Police Vaari Heccharika the team is passionately working on the film "Police Vari Heccharika" with Belli Janardhan as the Producer. The movie is rapidly unfolding in a single schedule. Contrary to regular opening ceremonies, muhurtas, traditional methods, this film was inaugurated on the day of Dussehra festival amid the slogans
"Jai Cinema Kalamathalli".
"Hail Telugu Cinema Industry".
"Hail Indian Cinema Industry".
Director Babji revealed "The shooting events for this film, which commenced on the day of Dussehra, have been completed in Hyderabad, Ghatkesar, Ghanpur, Shamirpet, and other regions, covering 50% of the shooting. In addition to crucial sequences in the film, three songs and two fight sequences have been successfully shot. The shooting for the entire film will be concluded by the first week of December, and this marks a significant milestone in the making of the movie.
Babji emphasized the importance of extending the love and care we give to our own children and families to the orphans in our midst. He highlighted the risk of neglect, stating that without such support, orphans might fall prey to anti-social forces, potentially leading them down a path of criminality. Babji mentioned that the film aims to convey this message while maintaining a commercial appeal.
"Having served in the Indian Army for the defence of the country, I have entered the production world of a film for the first time. I liked the message of the story told by the Director Babji and I am producing this film with the support of the actors and the technical team. We are finishing it," says producer Belli Janardhan.
Producer Belli Janardhan said that Ajay Ghosh who is growing as a Pan Indian actor, is playing a role which he has not done in any film before, and this role is like a life-long role for this film".
Star Cast:
Akhil Sunny, Ajay Ghosh, Sanjay Nayar, Giddesh, S.Hanumantha Rao, Baburam, Govind, Gantamogina Ravitej, Venu Rock, Sakaram, Lab Sharath, Himaja, Jaya Vahini, Meghana Khushi, Ruchita, Ujjwala Reddy and others.
Technical Team:
Writer,Director: Babji
Production: Belli Janardhan
Banner: Thoolikaa Tanishq Creations
Production Management: N.Subbarayudu
Cinematography: Kondapalli Nalinikanth
Music: Gajwel Venu
Editing: Shiva Sharvani
Project Coordinator: S.Hanumantha Rao
Production Executive: Pappuri Rajarao
Fights: Sindhuram Sathish
Dance: Venu Rock
Makeup: A.Kamal
Pro madhu vr