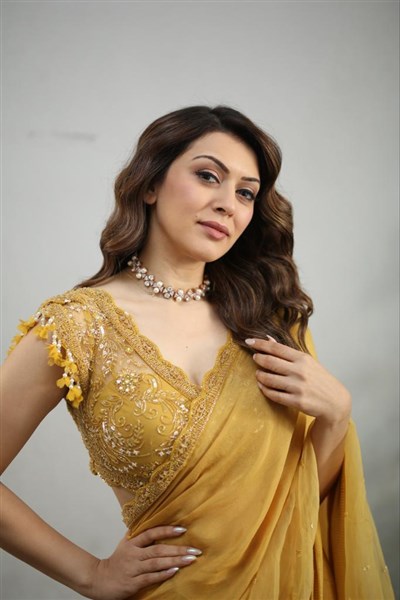 Hansika Motwani's 'My Name Is Shruthi' is arriving at the cinemas this Friday (November 17). Producer Burugu Ramya Prabhakar, who is a newcomer, is described by Hansika in this interview as an investor who spent the right amount of money.
A crime thriller made in the backdrop of the organ harvesting mafia, the film wants to make the audience aware of the lingering danger from the skin mafia. Hansika says that Mark K Robin's background score is superb.
Highlights from the interview:
I enjoy thrillers a lot. This is a dark thriller that touches upon the menace of the skin mafia. This is the first time a film with this backdrop has been made. My character gets into a trap. Shruthi works in an Ad agency. Whether she manages to bail herself out is something you have to figure out for yourself. She is a fighter, she doesn't give up, she is confident. Whatever obstacles come her way, she will go through them. And her problem is daunting and almost insurmountable!
My mother is a Dermatologist. I asked her about the skin mafia and if it really exists. She told me she had read about it. The common man has been kept in the dark about it. Director Srinivas Omkar came across a few instances during his research.
Keeping up with the script was the most challenging aspect. There are so many turns and twists! I enjoyed doing something quite substantial in the thriller space. I am very happy with the output. The film is carrying a lot of buzz. This is a family-friendly thriller that raises relevant questions.
My hands have always been full in Tamil. I have been too busy there and that's why there has been a gap in my Telugu filmography. I have never had any regrets in my career. While I am satisfied, I want to achieve more. I am not content as yet. I have a long way to go.
I feel proud of Allu Arjun and Prabhas, with whom I have worked early in my career. Their films have erased linguistic barriers. Their growth is well-deserved. They are humble as always despite reaching starry heights!
Cast:
Hansika Motwani, Murali Sharma, R Narayaan, Jayaprakash, Vinodini, Sai Tej, Pooja Ramachandran, Rajeev Kanakala and others.
Crew:
Cinematographer: Kishore Boidapukala; Music Director: Mark K Robin; Art director: Govind; Editor: Chota K Prasad; Production Executive: G Subbarao; Poster Designing: Vikram Visions; Costume Designer: Amrita Bommi: PRO: Maduri Madhu; Costume Chief: Sarveswara Rao; Co-Producer: Pavan Kumar Bandi.